SieMatic Premieres at PIRCH Flagship Showroom
---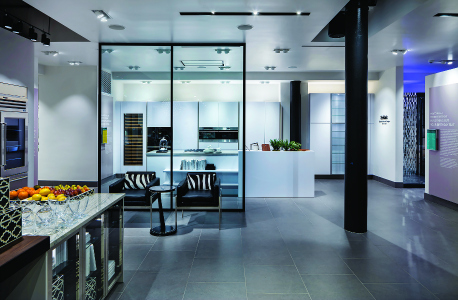 July 21, 2016
SieMatic plays an integral role in the new PIRCH SoHo showroom in Lower Manhattan as the exclusive kitchen cabinetry provider for the showroom's immersive shopping experience with nearly 20 displays of SieMatic's three premium kitchen style collections – CLASSIC, PURE and URBAN. 
Located in a historic former ironworks building at the corner of Broome and Lafayette, PIRCH SoHo encompasses 32,000 sq. ft. across three floors. More than just a retail store, PIRCH brings home brands to life. Throughout the more than 30 interactive displays, faucets flow, hearths flicker, cabinets open and close with a touch and appliances function, allowing visitors to test-drive products before they buy. Shoppers can take part in onsite cooking classes or even book a private steam shower in the experiential home spa.
"PIRCH is changing the face of retail, with a truly immersive experience," said Hans Henkes, president and CEO of SieMatic Möbelwerke USA. "SieMatic's inclusion in the PIRCH flagship showroom gives our target buyer the opportunity to fully engage with our products and visualize them in their homes. What's more, the increased visibility in such a high-profile space further enhances the opportunities and sales potential for our independent partners and designers." SieMatic is the exclusive provider for kitchen cabinetry in PIRCH's showrooms across the United States.