Tecnogas SUPERIORE
---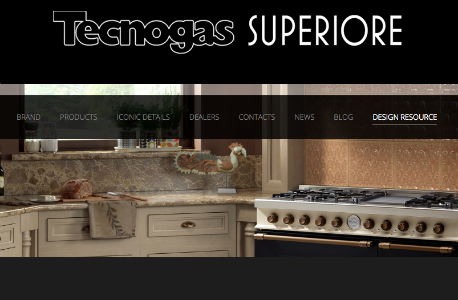 July 19, 2016
Tecnogas SUPERIORE, a recent Italian entry to the North American appliance market, has launched the Online Design Resource, produced exclusively for North American designers and their clients. The dedicated online resource allows for U.S. and Canadian design professionals to gain full access to key information on the entire SUPERIORE collection of appliances, both online and on mobile devices. The sub-site contains practical and detailed Tecnogas SUPERIORE brand and product information accessed with a single click.
"We truly value the connections we are establishing with North American design professionals, and want to ensure their experience with SUPERIORE is as flawless as possible," said Gian Luca Gianletti, marketing manager for Tecnogas. "Our mission was to create a complete set of resources that can be shared with our design clients and their customers. We created an easily accessible sales tool for designers to provide them instant information."
Among the documents available for download is the SUPERIORE Trade Brochure, which provides an overview of the SUPERIORE brand experience, as well as exclusive details about its lines of ranges, hoods and accessories. Also available for download is the SUPERIORE Design Guide, filled with in-depth technical specifications that are required during the planning process to work with SUPERIORE products in North America.
Additionally, the webpage provides a contact form to request a hard copy of these documents, including a poster for a visual demonstration of the SUPERIORE product line and a condensed consumer flyer for a quick-look version of the Trade Brochure. The Design Kit can be shipped anywhere in North America, free of charge.