The Home Depot Names American Standard a Partner of the Year + Product Innovator
---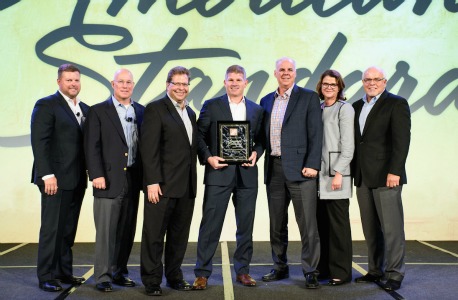 October 26, 2015
American Standard Brands announced its recognition as a 2015 Supplier Partner of the Year by The Home Depot for the kitchen and bath division. In addition, the American Standard Optum VorMax toilet was a runner-up for the 2015 Innovation Award for its pioneering new flushing system.
The Partner of the Year designation was granted to acknowledge the collaborative relationship between American Standard and The Home Depot, including achievements through the promotion of new Champion and Cadet toilet models. The Optum VorMax toilet, which was launched jointly with The Home Depot, was also recognized through this award.
"It is a sincere honor to be named a Partner of the Year by an influential retailer like The Home Depot," said Steven Delarge, CEO and president of LIXIL Water Technology Americas. "We deeply value this partnership with such an expert merchant."
The American Standard Optum VorMax toilet was the only product in the kitchen and bath category to be recognized among the retailer's 2015 Innovation Award winners. Each year, The Home Depot Innovation Award honors inventive new products that deliver unique, measurable benefits to users and also recognizes the work of pioneering manufacturers who provide unmatched performance and service. The Optum VorMax toilet was acknowledged for its flushing technology that delivers one powerful jet of water to scrub the entire bowl clean; in fact, it has been independently verified to clean the bowl two times better than conventional toilets.
Accepting both awards on behalf of American Standard Brands were COO Michael Marchi, Vice President, Retail Sales Chris Barg and Sales Director Ken Keane.