The NKBA Announces the 2014/2015 Student Design Competition Winners
---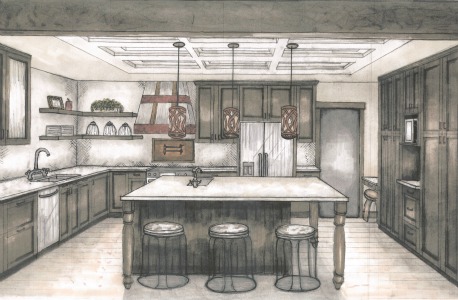 October 30, 2015
The National Kitchen & Bath Association (NKBA) announced the 10 winners of the 2014/2015 NKBA Student Design Competition – East Tennessee Gentleman's Farm, which offers $10,000 in scholarships and prizes. For the first time in the history of the competition, the students were asked to design a kitchen and a bath for a real-life custom home built in the heart of East Tennessee. 
The winners will attend the NKBA Design Competition awards event on Monday, January 18, 2016, held at Marquee Nightclub, located in the Cosmopolitan, Las Vegas, during the Kitchen & Bath Industry Show (KBIS). This industry event will also recognize the NKBA professional designers who created the best kitchens and baths of the past year.  
Sponsored by Waypoint Living Spaces, a division and trademark of American Woodmark Corporation, the 2014/2015 NKBA Student Design Competition – East Tennessee Gentleman's Farm received hundreds of entries from NKBA student members at colleges and universities across North America. The students' designs offer insight into fresh design trends created by the up-and-coming generation of professional designers. 
The first place kitchen design is being built in the clients' home this year, the entire room taken directly from the specifications and design that the student submitted to the competition.  This is an exciting addition to the NKBA Student Design Competition and has given the students more to consider when designing the project.  For the first time ever, students had to take into consideration restrictions of the actual build, colors and products, as well as a specified cabinet line. 
The following 10 students were selected by a panel of NKBA certified industry experts as winners in the 2014/2015 NKBA Student Design Competition. 
Kitchen design winners: 
•   1st Place: Kayla Soto, Lakeland College, Vermilion, Alberta, Canada
•   2nd Place: Heather Fields, University of North Alabama, Florence, AL
•   3rd Place: Laura Cobb, Lakeland College, Vermilion, Alberta, Canada
•   Honorable Mention: Ifat Galante, San Diego Mesa College, San Diego, CA
•   Honorable Mention: Megan Daughtry, Front Range Community College, Fort Collins, CO
Bath design winners: 
•   1st Place:  Cynthia Cohen, Arapahoe Community College, Littleton, CO
•   2nd Place: Stephanie Schifano, Front Range Community College, Fort Collins, CO
•   3rd Place: Michelle Vanatta, Seminole State College, Heathrow, FL
•   Honorable Mention: Colleen Pescaia, Front Range Community College, Fort Collins, CO
•   Honorable Mention: Sarrah Fleharty, Front Range Community College, Fort Collins, CO
"The quality of this year's student entries was very competitive and sure made it tough for our judges to narrow the winners," said Mark Kovich, vice president sales and marketing for Waypoint Living Spaces and NKBA Student Design Competition sponsor. "The kitchen and bath designs created by students using Waypoint products was impressive. We take great pride in cultivating young designers who represent the future of our industry. I look forward to presenting the student awards at KBIS in January and jump-starting some careers!"