Todd Jackson Launches Home Expressions
---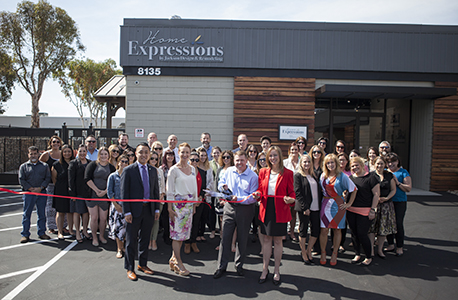 April 26, 2016
Todd Jackson, founder and CEO of Jackson Design and Remodeling, joined local business leaders today at the ribbon cutting ceremony for his new company Home Expressions by Jackson Design and Remodeling. The company will offer homeowners kitchen, bath and specialty design build remodeling within four walls, with no structural changes or architecture needed.
The ribbon cutting ceremony took place at the new company's 9,000-sq.-ft. Selection Center and offices located at 8135 Ronson Road in Kearny Mesa. Officials and business leaders attending Thursday's ceremony included Allen Young, representative for San Diego City Councilman Chris Cate; Sheryl Reichart, president of the San Diego Better Business Bureau; and Courtney Gant from the San Diego Chamber of Commerce. San Diego Mayor Kevin Faulconer sent a certificate commemorating the milestone.
"Kearny Mesa is an up and coming community with a vibrant business area. We want to thank Todd and Home Expressions for investing in this area. This is another example of great things happening in the district," said Allen Young, representative from San Diego Councilman Chris Cate's office.
"I am so proud of how Todd has grown his business. Jackson Design and Remodeling has received the BBB Torch Award five times in a row. You can only enter every other year, so that to me shows 10 years of extraordinary performance. I am very proud to be part of this celebration today," remarked Sheryl Reichert, president of the Better Business Bureau.
"On behalf of Jerry Sanders our CEO and former mayor of San Diego, we are so honored to have JDR as a member of the chamber and really applaud his growth over the past 7 years – Todd's more than tripled in size. That's a real testament to integrity and hard work. We are very proud of success stories like these. This new venture creates jobs and is a boost to our local economy. We are so proud of Todd's success with Jackson Design and Remodeling and look forward to supporting him as he launches Home Expressions," said Courtney Gant of the San Diego Chamber of Commerce.
Home Expressions will employ a team of skilled designers and professional staff, employing 30-40 direct employees and 250 indirect employees. JDR and Home Expressions combined are expected to generate $18.5 million in revenue for 2016 with $10.5 million of that figure representing subcontractor revenue, including materials and labor.
"We are launching Home Expressions to answer a need in San Diego home remodeling," said Jackson. "For 27 years JDR has offered high-concept design build remodeling to homeowners desiring large-scale renovations. We are going to use the same expertise that built JDR to what it is today and apply it to projects that don't require structural changes or architecture. Our 9,000 square foot Selection Center allows clients to be inspired by kitchen and bath vignettes and then to work with one of our award-winning designers to create the best strategy, materials and finishes for their projects."
Home Expressions will be hosting an Open House from noon to 4:00 p.m. on Saturday, June 18.