TOTO Earns EPA Watersense Label
---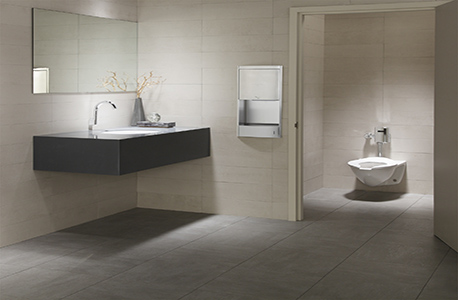 May 27, 2016
TOTO, the largest plumbing manufacturer in the world with $5.1 billion in annual sales, announced today that its high-efficiency EcoPower Flush Valves and Commercial Flushometer Toilets are the plumbing industry's first to earn the EPA's coveted WaterSense Label.
"It is imperative that WaterSense certification extend to the commercial side of the industry with products that offer the same level of performance while saving water by using no more than 1.28 gallons per flush," said Bill Strang, President of Operations and eCommerce for TOTO USA. "Restrooms are a major source of water consumption in all commercial and institutional buildings, accounting for approximately 30 to 45-percent of their water use. To help reduce this, TOTO is pleased to lead the way as the first plumbing manufacturer whose high-performance commercial flush valves and flushometer toilets are WaterSense certified."

 
 

If a typical large office building with approximately 2,500 occupants replaces its older, inefficient toilets and urinals with TOTO WaterSense labeled models, it could save more than 3.5 million gallons of water and over $31,000 in water costs annually.
TOTO's chrome EcoPower flush valves (also available as concealed units) generate their own power each time water spins a small internal turbine when the unit is flushed. Stored in a series of capacitors, this auto-generated electrical energy powers the flush valves' sensor eye, microprocessor, and solenoid. There is no need to hard wire them to a building's electrical system (which significantly increases installation cost) or for routine disposable battery replacement (an ongoing maintenance expense harmful to the environment).
"We are pleased to see that TOTO is the first WaterSense partner to earn the label for flushometer-valve toilets," said Veronica Blette, program manager for EPA's WaterSense program. "We're also excited by the energy-saving design of their labeled valves, which use the power of water to reduce energy use. It demonstrates TOTO's commitment to both innovation and saving our planet's precious resources."
TOTO has enhanced its EcoPower flush valves with technological innovations that dramatically improve their hydropower technology's effectiveness. The redesigned EcoPower flush valve is easier to install and its platform eliminates the need for daily use to power the flush valves' operation.
TOTO's WaterSense labeled 1.28 gpf high efficiency commercial toilets (available as ADA-compliant floor or wall mount models) and EcoPower flush valves are system engineered to work together to provide optimal performance and water savings in commercial environments by providing unsurpassed performance and reliability, which reduces maintenance costs.