TOTO Washlet Sales Top 40 Million Units Worldwide
---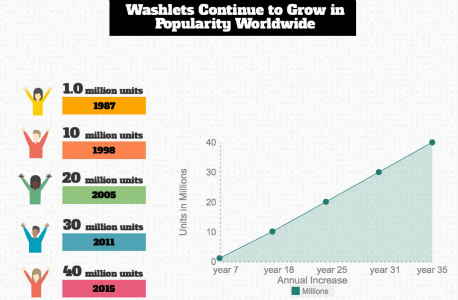 December 2, 2015
TOTO, the global plumbing manufacturer, has achieved a major milestone with its Washlet line of personal cleansing systems. To date, the company has sold more than 40 million Washlets worldwide since the product's 1980 launch in Japan.
During the past 35 years, TOTO has expanded its Washlet sales around the globe, and today these personal cleansing systems are available on all seven continents, in countries as diverse as the United States, Germany, France, Korea, the Philippines, Thailand, the United Arab Emirates, Indonesia, Taiwan, India, Brazil, Mexico, China, Singapore, Korea and the United Kingdom.
Washlets use pure, clean water – and myriad technological innovations – to reinvent the humble toilet seat as a warm water personal cleansing system. When its cleansing cycle is activated, a streamlined wand with Wonderwave technology extends from the beneath the seat to provide a soothing warm flow of aerated water for complete cleansing. Because the water is drawn directly from the home's fresh water supply, the Washlet delivers warm water that is always clean and pure. Once the cleansing cycle is completed, the user may engage the drying cycle, which uses warm air to gently dry the area, protecting the environment by reducing the need for toilet tissue. TOTO's Washlets also feature the company's technological advances such as eWater+, the first use of electrolyzed water designed to make the toilet bowl easier to clean, and the new Connect+ System, which neatly conceals the Washlet's power cord and water supply hose for a clean installation.