Vauth-Sagel Welcomes 24 Apprentices to Its Training Program
---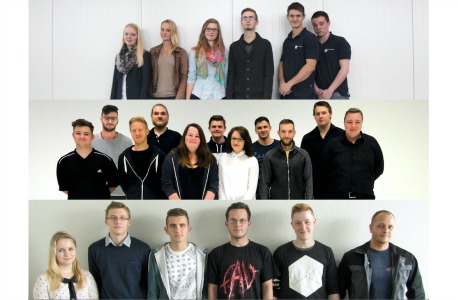 November 12, 2015
Twenty-four apprentices recently began training with system component manufacturer Vauth-Sagel. After completing the program, these apprentices can go on to take advantage of further training and promotion opportunities the Brakel-Erkeln-based group offers at all its locations. At all four of the company's locations in East Westphalia and North Hesse, apprentices are being trained in technical occupations and as industrial management assistants. The apprentices are joined by a working student who is taking the opportunity to complete the practical component of a degree with Vauth-Sagel.
"We're delighted that we've been able to fill all our apprenticeship vacancies so well again this year," said a representative of Vauth-Sagel. "Giving young people a sound training within our group of companies is still the best way of finding well-qualified employees for our various divisions and individual requirements. We usually offer about 90 percent of all our apprentices permanent employment once they have passed their final examinations. As a result, they're highly committed to our company right from the start of their careers."
The Vauth-Sagel Group offers new recruits a modern learning environment that underpins their training. Skills taught during the apprenticeship include working with the latest technical developments, machinery and tools, as well as unique materials expertise in the fields of wire, steel, sheet metal, wood and plastic. The interdisciplinary exchange between the company's individual locations and departments is another beneficial aspect. As a result, the apprentices become acquainted with a great many processes, products, services, materials and technical facilities and are thus equipped to take on a wide range of responsibilities within the group after having completed the training. Operating throughout the world, the Vauth-Sagel Group offers entry-level openings for anybody interested embarking on a career after an apprenticeship.