Whirlpool Gives Smart Homes a Conscience
---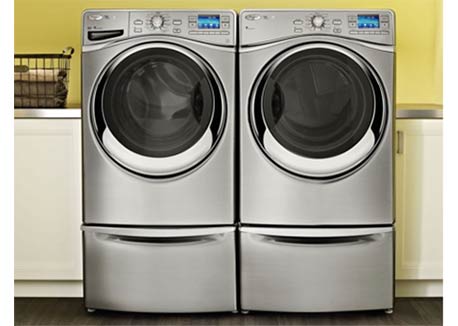 January 14, 2015
At this year's Consumer Electronics Show (CES), Whirlpool Brand imagines the future of a fully connected home ecosystem. From smart products like the first connected, donation-enabled laundry pair, to a kitchen environment concept with smarter surfaces, Whirlpool aims to bring to life technology and innovations with a human touch.
Expanding on its digital cooktop concept at last year's show, the brand is predicting the future of the kitchen with the debut of the Interactive Kitchen of the Future 2.0 – a concept cooking environment and fully connected, social media hub that syncs devices and all your kitchen appliances so everything and everyone you communicate with is within reach using existing surfaces.
In a conceptual demonstration at the show, Whirlpool Brand illustrated what it would be like to create an interactive backsplash and cooktop that connects users to their social networks, favorite websites and recipes. The interactive backsplash also enables live "chats," an oven that will turn on just in time to ensure dinner is ready, and a refrigerator that sends an alert notification when food is at its freshest.
"We're using technology's biggest stage to showcase what our design team does best – visualizing the future of appliance technology that has yet to be invented and its influence on the home," said Brett Dibkey, vice president and general manager of integrated business units for Whirlpool Corporation. "We take special care to merge our designs with cultural observations. A lot of people are connecting a lot of 'things,' but very few are creating true consumer value. Whirlpool Brand's purposeful use of technology does not get in the way, it points the way."
In addition to the company's future concept, Whirlpool's next-generation Smart Top Load Washer and Dryer extends the 'Works with Nest' collaboration in laundry. The new top load triggers a quiet mode within the Whirlpool Mobile app while at home for a little extra peace when users really need it. Consumers can also access custom wash cycles direct from Whirlpool Corporation engineers. These anticipated cycles include high-performance athletic wear, comforters, baby clothes, hand-wash fabrics and more.
The app also benefits Habitat for Humanity through the new Connect to Care program. This connected pair enables families to automate donations to Habitat for Humanity where every load of laundry triggers a donation based on the families' preferences.