Winners of the 14th Annual Tile of Spain Awards Announced
---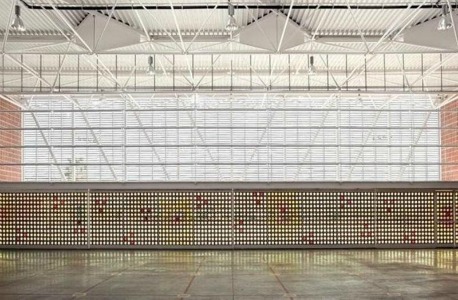 December 9, 2015
Tile of Spain, the international brand representing 125 tile manufacturers belonging to the Spanish Ceramic Tile Manufacturers Association (ASCER), has announced the winners of the 14th Annual Tile of Spain Awards in the categories of Architecture and Interior Design. The awarding jury, presided over by architect Victor López Cotelo, met in Castellón Spain to select the winners. 
First prize in the Architecture category went to "Pabellón Docente Polivalente Escola Gavina" by Carmen Martínez Gregori, Carmel Gradolo Martinez and Arturo Sanz Martínez. The jury valued the simple and efficient architecture of this multipurpose pavilion and how it uses ceramic tile to solve problems of acoustic conditions and light control, as well as the way in which tiles were used balances the relationship between the indoor space and the surroundings.
In the Interior Design category, the judges awarded first place to a "Blue Wave Cocktail Bar" by Equipo Creativo. The judges were impressed by the exploration and application of ceramic tile used without sacrificing technique or functionality. The installation creates a festive and unique look in the space. 
Honorable Mentions were awarded to two projects in the Interior Design category for "Restaurante Disfrutar," also from El Equipo Creativo, for exploration with ceramic materials, and "L'Atic Vernacle" from El Fabricante de Espheras, for simplicity and preciseness in the selection of materials to achieve a comfortable living space.
The Tile of Spain Awards also includes a category to acknowledge the best Graduate Project presented by students of Schools of Architecture highlighting the use of ceramic tile in their projects. The jury awarded first prize to the project "Transient Refurbishment" by Laura Alonso Blascoof the ETSA School of Architecture in Madrid. Honorable Mentions also went to the following: "Paseo Marítimo de Mataró" by Hector Durán Sánchez from the University in Girona, "Archaeological Center in the Alhambra" by Agustín Gor Gómez from the Architectural School in Granada and "A story of integral rehabilitation, recreating a landscape that never was" by Jorge Borondo Pérez-Gómez from San Pablo University CEU Madrid.