Wood-Mode Supplies 140 Students with Music Instruction
---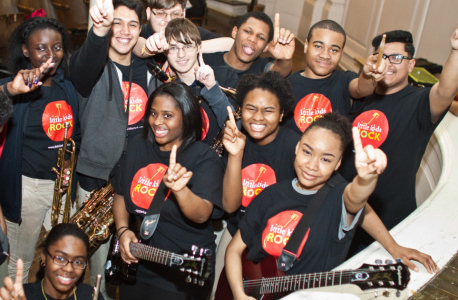 April 27, 2016
Knowing that schools with music programs have significantly higher graduation rates than those without, Wood-Mode Fine Custom Cabinetry donated $4,000 to Little Kids Rock, which will help the organization provide an additional 140 kids with a year's worth of music instruction. The donation was a result of a social media campaign that was conducted during the Kitchen & Bath Industry Show (KBIS) 2016.
Little Kids Rock, a national nonprofit music education organization, is dedicated to ensuring that all students have the opportunity to unlock their inner music maker and strives to accomplish its goal of raising awareness and support by training public school teachers to run "Modern Band" programs, and then donating all of the instruments and curricula they need to do so. They focus on teaching kids to perform, improvise and compose the popular music genres that they already know and love. 
During the presentation event, after students in the Little Kids Rock program performed three songs, Wood-Mode representatives Mike and Chuck Walsh, presented the check to Dr. Bryan Powell, staff member of Little Kids Rock. As a former Philadelphia school district student, Mike Walsh expressed his gratitude towards the organization that encourages modern music as a fundamental steppingstone.
"I had to sing classical music in high school and sing church music growing up. I wish there had been a program like this because to be able to play and sing music you listen to everyday would've been a dream come true for me," said Mike Walsh. "Little Kids Rock is helping students with their future and that means big things for music programs moving forward."