2015 NKBA SOTI Report Reveals Top Trends
---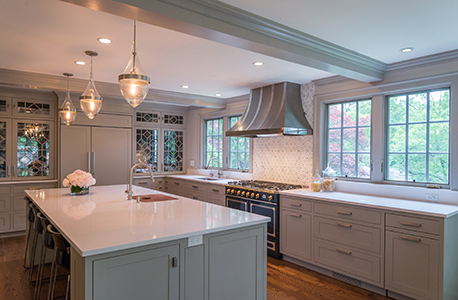 April 27, 2015
The National Kitchen and Bath Association (NKBA) has released its 2015 State of the Industry Report. The study, which was conducted last November, was among 640 kitchen and bath dealers and designers.
View a gallery of the announced trends here.
Contemporary and Clean
It's no secret that modern design is in style. With the busyness of everyday life, people now look to their homes for simplicity and organization. According to the report, 58 percent of respondents saw an increase in sales of kitchen/storage organization features, while 51 percent of respondents saw an increase of sales in bathroom storage/organization features.
Maria Stapperfenne, president of the NKBA, added that recent studies have shown that men buy storage and women invest in organization – all adding up to the clean look of contemporary design.
"Their perception of clean and simple lines (in their complicated lives), the idea of lower-maintenance and easy-to-clean could all be real reasons for the inclination toward contemporary," said Stapperfenne. "The other is a more global perspective."


European Style Cabinets
In this she refers to trends at Eurocucina, which carried flat and simple lines in the majority of the designs. Previous designs, like Tuscan and Old World style, are declining, and mid-century modern is gaining in popularity.
"Contemporary design has come in waves and seems to be coming hot and heavy in the not-too-distant future," said Stapperfenne.

Multiples of Appliances (Especially Energy-Saving)
To further organize the household and save time and money, people are investing more in energy-saving appliances and splurging in more than one appliance in some cases, like ovens or dishwashers.
In addition to this, universal design elements are becoming the norm because of their ease of use and accessibility. Undercabinet lighting is mainstream now and not just for those whose eyesight is deteriorating, while roll trays and pulldown shelving help out shorter users.
"I think universal design and multigenerational living are trends that will continue to increase in popularity," said John Petrie, immediate past president of the NKBA. "Are they playing a part in the popularity of storage and organization, as well as contemporary design? Perhaps, but I don't think they are leading the way. Universal design is just plain good design, regardless of our age."

The Modern Bathroom

Universal design and contemporary style in the bathroom go hand in hand.
"The cleaner, simpler lines of the style are very inviting," said Petrie. "The style is more streamlined, so smaller spaces appear bigger."
Floating vanities open up the space below while leaving room for wheelchairs or sitting space if necessary, and open shelving meanwhile offers incentive for organization and uses up less wall space. Whites and off-whites will continue to rise in popularity, as specified by 81 percent of NKBA designs in 2014.
"Today, we lead increasingly busier lives, full of all kinds of stuff," said Petrie. "This stuff creates clutter and chaos. I believe that we routinely look for ways to simplify our lives."