An Italian Showcase
---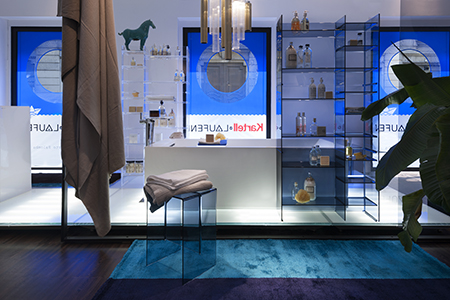 August 6, 2015
Modern bathroom design has entered the historic streets of Italy's city of fashion. At the recently opened Kartell by Laufen showroom, location and layout come into play for its collaborative design.
Two years after the collection's debut at the ISH trade fair in Frankfurt, the company recently opened its first monobrand showroom in the heart of Milan's Brera District. This district is situated just north of the famous Duomo, and most tourists will be inclined to wander the narrow streets. The area is also the setting of a well-known art museum, grand churches and several popular cafes.
Designed by designers Ludovica + Roberto Palomba, the Milan showroom boasts about 2,153 square feet of space and four large windows overlooking the street.
"The crowning glory is the bold and eye-catching window display," said Marc Viardot, director of marketing and products at Laufen. "A glowing mesh of backlit white platforms create a basis for Kartell by Laufen's still life composition, with vibrant transparent Plexiglas panels forming the backdrop."
The windows are partly obscured by a bright blue square, which has a circular opening in the center to see in, like a porthole. Behind the windows, the displays are laid out with minimalist details and simple lines, including transparent blue shelving and rectangular, freestanding tubs.
Beyond these front displays, the ground floor has a total of five bathroom scenes, each corresponding to a different range and featuring the latest products. Functioning examples are on display near the entrance on a long, slanting wall. The same wall displays a range and sinks, while taps and fittings have their own dedicated area.
"The idea was to give emotion a function," said Viardot. "It was helping to transform a space into architecture with special care so that each piece can remain 'alive' for a long time."
This idea continues downstairs, where there are seven more bathroom set-ups that vary more in terms of size and feel. Some show off unique color choices, while others are pared down to demonstrate the brand's products in smaller spaces.
"Duration is a value of sustainability," added Viardot. "The great shift generated by this project is that the customer can approach high-end products, in terms of design, innovation, quality and materials without spending a fortune."