Below the Surface
---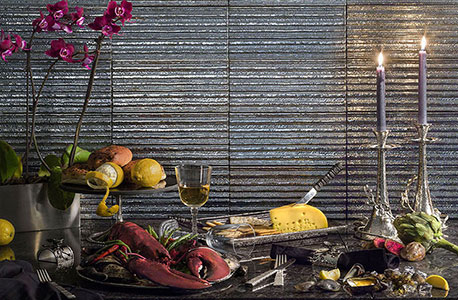 July 15, 2016
Sometimes a surface is not even noticed, and other times it is the focal point of a design. We lean, cook and walk on them, and they in turn hold us up, keep our appliances in the wall and support our chairs and feet. How we use surface materials has evolved with design, creating a vision of products that encompass a variety of glamorous, natural, eco-friendly, functional and textural designs.


KBB continues its summer trends series with an in-depth look at surfacing materials and how they are shaping the industry.
View a gallery of surface products here.
KBB: What are consumers asking for in terms of surface materials?

"We've found that our clients are increasingly seeking out textures and metallic finishes as they begin to push beyond the neutral trend that's been in place for the past decade. Because so many homes today are so neutral, textures are a wonderful way to add subtle visual interest, while metallics offer an additional aesthetic dimension that many designers and clients love."

– Nancy Epstein, founder and CEO, Artistic Tile
"Aesthetically, fresh, light and clean designs for countertops are popular right now, from contemporary solid designs to more distinctive veining looks. Marble is very popular. We have also seen consumers mixing materials and colorways in the same space. They might choose one material or style for the island and another for the countertop along the wall, or define a wet bar area apart from the rest of the kitchen."
– Roy Viana, director of natural stone and slab, Daltile
"Consumers are asking for surfaces that are beautiful, add a feel of luxury to their homes and are easy to live with. There are so many different tiles and surface materials on the market today that one dominant 'ask' isn't necessarily driving the market."

-Jared Becker, vice president of design and marketing, Walker Zanger

KBB: What surface trends are you seeing in the market today?
"For stone, we are seeing more long linear lines in stone shapes compared to the squares and rectangles of the recent past. Consumers are adding more accent walls in addition to a fireplace upgrade. They are now adding stone to accent walls and archways to create focal points and add color and texture to blank walls."

– Ramsay Hawfield, vice president of marketing and product development, Eldorado Stone


"Transitional style, open floor plan kitchens with islands remain the most popular layout, and neutral hues – including creamy whites, muted blacks and soft grays – continue to dominate in terms of color palettes. That said, we are starting to see the range of 'neutrals' expand. There's a great masculine influence happening in kitchen design currently, which is shifting neutrals into a smokier, darker palette. This was especially apparent in Milan at EuroCucina earlier this year."

– Lorenzo Marquez, vice president of marketing, Cosentino North America


"We see increased interest in texture, exaggerated dimension and large-format patterns."

– Sara Baldwin, founder and creative director of New Ravenna



KBB: What new innovations are you particularly excited about when it comes to surfaces?


"Consumers are living in outdoor spaces more often these days, and they are taking their kitchen and living room amenities outside. The materials from the kitchen are transitioning seamlessly into the outdoor kitchen and the outdoor conversation space. The stone on the outside of the home is wrapping through windows and doors to the inside of the home to create full stone walls. Walking from your interior kitchen to your outdoor living space feels like a natural extension of your home."
-Ramsay Hawfield, vice president of marketing and product development at Eldorado Stone
"We are very excited about the creation of new sealants and grouts to expand the areas where decorative tiles can be used."

– Georgiana Smith, design and sales at StoneImpressions
"We're now using a remarkable new glass that has the same durability as stone. This means two things; it can be used on the floor, and it can also be used with stone in one mosaic pattern creating beautiful texture and mixture of materials. We've also just started working with an ancient stone with healing properties; it is unlike anything we've ever seen before. The world has fascinating materials when you explore different cultures."
– Sara Baldwin, founder and creative director of New Ravenna




KBB: What do you see coming next for surfaces?
"It's hard to see the trend of patterned, decorative tiles going out of style anytime soon, but we predict that three-dimensional, texturized tiles will become more popular."

– Georgiana Smith, design and sales at StoneImpressions


"I see using technology to make natural materials more adaptable as the next thing. For example, wood that can be used in a shower is definitely becoming bigger."
– Jerry McCall, co-founder of Stikwood


"We expect to see great advances come forth that will enhance surfacing materials both from a durability/performance perspective, as well as from an aesthetic perspective. Look to see technologies emerge that improve upon qualities like low-porosity and resistance to staining, as well as enhancing the vibrancy and luster of the colors and patterning."

-Lorenzo Marquez, vice president of marketing, Cosentino North America