Ceramics of Italy Announces 2016 Tile Competition Winners
---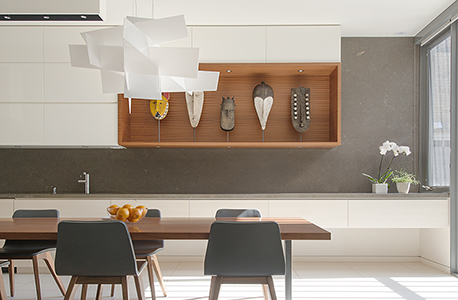 June 23, 2016
Now in its 23rd year, the Ceramics of Italy Tile Competition has looked for projects that best use Italian tile in North American architecture and design. Sponsored by Confindustria Ceramica (the Italian Association of Ceramics) and the Italian Trade Commission, an international jury of design industry experts reviewed and evaluated the projects, ultimately selecting one winner and two honorable mentions for the residential portion of the competition.
View a gallery of the winning projects here.
The jury made their selections under the following criteria: the creative and effective use of Italian tile, the overall quality of the installation, the aesthetic beauty and functionality of the design and the sustainable attributes of the overall project and materials used.
Residential Winner
Designer: Washington, D.C.-based Shinberg.Levinas Architects
Project: Turnberry Residence
Location: Rosslyn-Arlington, Va.
Tile Manufacturer: Lea Ceramiche
Distributor: Atlantic Link
Contractor: Jud Tile
This penthouse condominium located in the heart of Rosslyn, Va., was renovated to house Italian furniture and a small art collection. The project scope included a complete interior renovation of the bedroom, bathroom, kitchen and exterior balcony, as well as flooring and walls for all living spaces. The architectural concept was to have large, open spaces with big surfaces to complement the expansive layout and panoramic views of the Potomac River, Arlington, Key Bridge and Georgetown.
Residential Honorable Mention

Firm: Toronto, Ontario-based DUBBELDAM Architecture + Design
Project: Through House
Location: Toronto, Canada
Tile Manufacturer: Casalgrande Padana
Distributor: Stone Tile International
Contractor: Casalgrande Padana
Situated on a narrow lot in a dense downtown neighborhood, the renovation of this 1,450-sq.-ft. residence aimed to expand the interior space without increasing the footprint of the house. A powerful visual connection between the living space and the intimate backyard was created through an airy, open floor plan. Exceptional sustainable details include passive cooling and natural ventilation in the summer combined with in-floor radiant heating and thermal mass in the winter to maximize energy savings.

Residential Honorable Mention
Firm: New York, N.Y.-based Geoffrey A. Blatt Interior Design & Decoration
Project: Bridgehampton Private Pool
Location: Bridgehampton, N.Y.
Tile Manufacturer: Kronos Ceramiche
Distributor: Cancos Tile & Stone NYC
Contractor: Breitenback Builders
At this private residence in Bridgehampton, N.Y., three different Kronos Ceramiche 2 cm tiles were used around the pool and deck area as a durable outdoor design solution. With sleek and sensual lines, the wood-look tiles from the Maple Doga 2.0 collection were installed around the pool and also as a 3-in. miter coping.