Cersaie Explores the Beauty of Ceramics and Bathroom Furnishings
---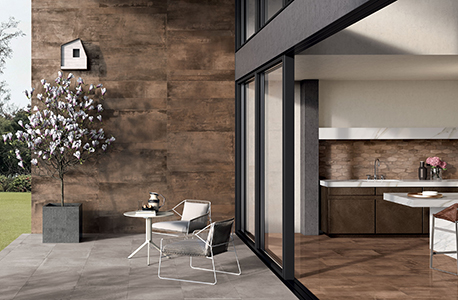 October 2, 2015
Cersaie, the International Exhibition of Ceramic Tiles and Bathroom Furnishings, returned for its 33rd edition this past week. Taking place at Italy's Bologna exhibition center, the show attracted thousands of visitors, journalists, designers and industry professionals from around the world.
View a gallery of products here.
The program boasted 860 exhibitors from 39 different countries, 339 non-Italian exhibitors, 509 ceramic tile companies and 277 bathroom-furnishing companies. The schedule included a keynote lecture by 2002 Pritzker Prize winner, Glenn Murcutt, where he spoke on eco-sustainability and emphasized that people's well-being is dependent on nature.
"I love the versatility of ceramic but also its consistency," said Murcutt. "In Australia we love walking barefoot – and the sensation of ceramic under your bare feet is unique. It's also an insulating material that allows less use to be made of heating and air conditioning systems, resulting in considerable energy savings."


Tile Trends
This year's trends include looks like imitation wood, including the plank formats – not only with long, narrow tiles but also wider sizes. Eclectic wood finishes, including worn woods with emphatically aged color schemes appeared often as well as thicker applications of outdoor tiles.
Building on last year's trend, graphic design creates personalized floors and walls with different laying patterns in the tiles. The aged urban/industrial trend is still popular; cement and wood with graphic effect, often inspired by action painting, graffiti or topography are being utilized. 


The fashion for hexagonal formats is still popular – as are the extra large formats – while collections with different thicknesses are on the rise.
The names of collections usually refer to the earth or clay, just like the colors. These are mainly dusty, unsaturated colors, including the many varieties of brown, ochre, orange and gray. In decorations, classic and vintage designs are the most popular. Furnishing fabrics and classic cement tiles, which are often combined with contemporary materials and furnishings, inspire these designs. 


Bathroom Furnishings Trends
After last year's clean styling and minimalism, there has been a return to softer, more welcoming forms. These include washbasins with narrow edges and rounded corners, and the new fashion for toilets and bidets are rimless toilet bowls, which boast unbeatable hygiene and a cleaner design. 

While neutral and natural colors are most in demand in Italy, more colorful products are on the rise. Gold and bronze printed on ceramic sanitary ware are being used as expressions of luxury, particularly when used in a minimal format.


The concept of the washbasin is also undergoing a renewal, including decorations inspired by textiles. In regard to the washbasin top, the material currently dominating the market is large-format, ceramic panels, alongside Corian and mineral marble. In the medium and high end of the market, the preferred material is porcelain stoneware and hpl unicol with an integrated basin.
And since the bathroom is increasingly seen as a place for relaxing and regenerating oneself and less as a technical washroom, it has come to follow and even anticipate fashions in the world of furnishings. The near future might see manufacturers offering solutions that satisfy every aesthetic requirement and taste, from rigorous, essential styling to softer, more rounded forms – all combined with innovations in technology and finishings.