Enlighten Your Clients
---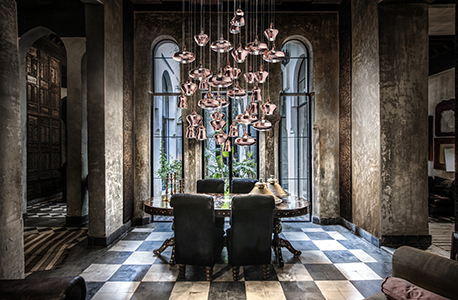 June 16, 2016
Even if a kitchen has the glittering backsplash, the colorful six-burner range and all the high-tech features available, without light, cooking and hosting would be a disaster. The most outfitted bathroom – complete with marble work and digital shower controls – does little for personal comfort and aesthetic without lighting. Without illumination, all of our designs could never be enjoyed to their potential.
As part of our Summer Series on trends in the kitchen and bath, KBB spoke with seven lighting designers to find out what they are seeing in the market and how designers can best take advantage of lighting in their designs.
View a gallery of new lighting products here. 
KBB: What are consumers asking for in terms of lighting?
"The market is very competitive now, so the product should be all-in-one: eye-catching, trendy, good for a wide range of customers and not extremely expensive. It's not easy, but it's very exciting to design!"
Dima Loginoff, Miami-based Studio Italia Design
"It used to be that only architects and designers were asking for LED lighting, but I am hearing that from consumers and end users more and more. Consumers are also looking for lighting that makes a real statement in the room, with less importance on the function if they can rely on recessed and undercabinet lighting."
Tracey Glover, Pawtucket, R.I.-based Tracey Glover Objects and Lighting
"For kitchens, people are looking for functional light. It should be a good working light without glare and have a color temperature that provides color correctness to create visually appetizing food items. Prepared dishes should look as they would in nature.
For bathrooms, they want a diffused indirect light that has softness and no shadow. These qualities allow the individual to look best in daylight with their skin tones, hair color and makeup applications appearing complementary in the illuminated space."
Fort Lauderdale, Fla.-based Louis Poulsen USA Inc.
KBB: What lighting trends are you seeing in the market today?
"We're seeing a lot of decorative lighting recently making headway – statement lights and the like that are meant to be noticed when one walks into a room. We remember seeing a lot more 'background' or architectural lighting about 10 years ago. There's also always been a predominance of metal, namely brass, and glass – all for obvious reasons – and we are delighted to see different materials find their way into lighting fixtures."

Jean Pelle, Brooklyn, N.Y.-based PELLE
"We're seeing better integration of technology, from LED to smart switches to smartphone apps that can control everything from on/off times to dimming and beyond. We're also seeing more colorful palettes. Gold and brass are still going strong, but other colors and tones are growing in popularity. What we're personally seeing is great interest in our large statement pieces. Our customs team is keeping busy designing even larger, custom statement pieces."
David Kitts, Design Director, Hubbardton Forge
"There's a big trend in rectangular lighting over the dining table or in the kitchen. People are seeing lighting in the same way they view furniture – it's just as important to the look and feel of a room as getting the right sofa. We're seeing both a demand for big scale pieces – large, intricate chandeliers – and also for perfectly crafted small-size pendants."
Hong Kong/China-based Timothy Oulton

KBB: What do you see coming next for lighting?
"As the momentum or cycle builds away from minimalistic design and more toward luxury, we will see more and more investment in timeless classics. When I refer to luxury, I mean where no detail is missed, quality is paramount and all things beautiful are embraced."
San Francisco-based Jeremy Cole

"I see less interest in retro and more interest in interactive. We are now living in a new design era, where many young designers from all around the world are producing their products themselves. The collections and number of products in each collection are small, which then becomes a very personal design. I think we will be seeing more like this in the future. It's closer to custom design than to industrial."
Dima Loginoff, Miami-based Studio Italia Design
"I think outdoor living spaces – outdoor kitchens, bars, lounges, dining areas – have been growing in popularity over the last few years, but they were underserved by the luxury lighting market. I anticipate more high-end lighting designs appearing in those spaces. I also think we're going to see a wider range of styles side-by-side in showrooms as the buying power of millennials increases and more of them look to put their own stamp on the spaces they're living in."
David Kitts, Design Director, Hubbardton Forge