Falling for Flooring
---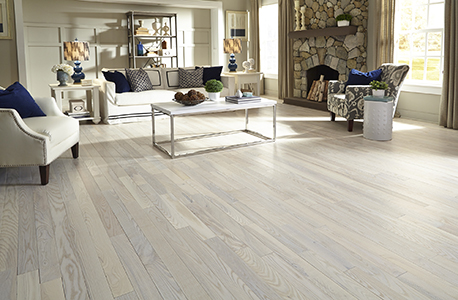 December 10, 2015
   Bellawood Matte Carriage House White Ash from Lumber Liquidators
With fall coming to a close and the holidays just around the corner, clients are beginning to wrap up projects or starting to think about new ones for next year. Whatever the season, an update to what's beneath their feet could make all of the difference.
Change of Scale: According to James Algee of Carlisle Wide Plank Floors, clients are seeking wider and longer planks that correspond with the open architectural style. As more homeowners open up their kitchen to adjacent family rooms, larger spaces can accommodate bigger boards.
"These larger planks also reduce the amount of seams or 'lines,' which creates a sense of spaciousness and decreases the busyness of a room," he added.
Large plank size is also translating to patterned floors like chevron, where people are requesting patterned boards that are much wider and longer than the industry standard.


                       Treehouse Retreat from Carlisle Collections
"Layering patterns within the home is a very design-savvy trend," said Sandi Ownby, senior stylist at Shaw Floors. "Layering patterned rugs on top of hardwood, selecting patterned tile mosaics to personalize your space and pairing boldly printed fabrics with large-scale patterned carpet allows for the imagination to run wide with possibilities."


              Caress Brushstroke in Snowfall from Shaw Floors
Brightening Up: Light flooring stains conceal dust and dirt, explaining the uptick in whitewash looks for wood flooring. According to Jay Quickel, vice president of merchandising at Lumber Liquidators, bamboo is also trending because of its durability, and it is particularly popular in kitchens where the foot traffic is high and heavy items are often dropped on the floor.
In terms of color, homeowners are also requesting more natural finishes. The days of high-shine wood floors are long gone and a look that borders on unfinished is in.


                       Chalet Snow Drift from Carlisle Collections
New and Innovating: "The range of color and styles offered in wood-look tile has really grown," said Quickel. Wood-look tile combines the beauty of wood with the durability of tile and is ideal for high-moisture areas like kitchens and bathrooms.
Engineered flooring has also come a long way. Clients often still have the perception that engineered flooring is low end, but that is no longer the case. Now there is no distinction in the long-term use of high-quality engineered floors made with a thicker wear layer versus solid wood floors.


Options like vinyl planks offer homeowners waterproof protection with an authentic hardwood look, and even waterproof carpet allows for a softer appeal in traditionally wet spaces.
"Now if you want waterproof carpet bound into a rug for a kitchen or bath, or installed in a family friendly space or kids room, you have an option that will keep you worry free knowing that potential accidents can easily be cleaned up," added Ownby.


                          Life Happens Carpeting from Shaw Floors
What's Next: Wider and longer is predicted to continue for some time, and more enduring materials and methods to create flooring are expected to come. There is also an expectation for more vibrantly colored floors.

"While gray will remain the most requested hue, we may end up with blue, red and green-toned floors," said Algee. "Homeowners will use these floors as a way to bring in bold accent colors. That's the feeling in the industry – that colors are coming next." 

"What's great about hardwood flooring is that there are timeless elements and an enduring appeal to many of the looks and styles of hardwood floors," added Quickel. "For some consumers, they're always looking for something new and different and that's where unique colors, styles and more trend-forward looks make an impact."


      Avelia Reclaim Wood Gray Porcelain from Lumber Liquidators