Great Minds Think Outside of the Box
---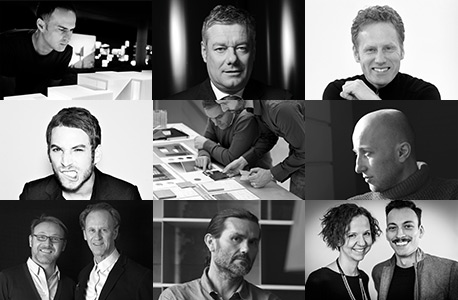 June 9, 2016
Ronbow's Signature Series brings together 11 new collections from nine top European designers under one single brand. The company went outside of its own design team to research and select world-renowned experts in their fields – not focused on bath furnishings – to design the new lines.
"We've always been driven by innovation in design and technology, so we knew that the next step in our brand's evolution would be work with European designers who identified with our mission and whose own brand aesthetic was in keeping with the direction we wanted to go," said Jason Chen, Ronbow's president. "We also knew it was important to work with designers who are each recognized as leaders in their respective fields."
The designers created their collections with comfort and convenience at the top of the list and included such items as drawer organizers, built-in technology, functional mirrors and high-performance LED lighting.
"Each designer brought something different to the table, and because they are not necessarily focused on bath furnishings, they deliver different perspectives and reinterpret the art of the bath and wellness by giving us something unexpected," said Stuart Stanton, Ronbow's executive vice president. "In a way, these designers' creations are outside the box with different takes on style, form and function."
See a gallery of the designers' collections here.
KBB talked to each of the designers, as well as the Ronbow team, to dig a little deeper into the ideas behind the process and each of the 11 collections.

Behind the Signature Series
"There was enormous mutual respect – from the designers because they knew we could manufacture the products to their precise designs and deliver on their brand reputation/promise – and from us to them because they too are experts in their fields," said Stanton. "Given that, we didn't put any restrictions on criteria; we wanted to give them as much freedom as possible."
The whole process – from the search for the designers and then the collaboration with each – took more than three years.
"The designers have been so inspired by the first launch, we are already working with some of them on new collections, and the concepts and prototypes are amazing," said Stanton.
Designers and Their Collections
1. & 2. BRIT and FREE by Claudia Danelon and Federico Meroni 

Danelon and Meroni are the founders of London-based DANELONMERONI and have designed for such brands as Jaguar, Bombay Sapphire and Nokia. They created BRIT and FREE, which are are two adaptable bathroom suites that include vanities, sinktops, LED mirror cabinets and accessories.
What was the idea behind BRIT and FREE?

As the name suggests, Free has been developed to allow disruption of traditional alignments and to configure the pieces in creative, surprising ways. Inspired by the adaptability of living room furniture, we wanted to create a modular system that could truly respond to different space requirements and personal preferences. The idea behind Brit was to create a fusion of modern and classic furniture – a design that could be out of time and beyond trends. We wanted to express our personal relationship with London and celebrate the influence Great Britain has had on our lives.

Free by DANELONMERONI
Were there any lessons learned during the experience?
We are addicted to that magical moment when imagination becomes reality and we touch with our hands the product we designed together. This time we've learned that good things come to those who wait, as extreme care for detail was put into both projects. Now that the wait is over, we hope people around the world will enjoy our designs as much as we do.
3. WATERSPACE by Joan Lao
Lao is an international designer based in Barcelona. Since opening his design studio more than 30 years ago, he has been part of more than 3,000 interior design projects, which include furniture, tapestries and lamps. His WATERSPACE collection emulates the natural beauty of and defines the value of water as the most important element of the bathroom.
What was the idea behind WATERSPACE?
I work with natural materials like stone and naturally eroded wood, which produce pleasant sensations, comfort and wellbeing. The natural colors in the collection are inspired by the weathered materials found in nature. The organic and round forms help the collection meet the space in a sculptural way without edges or corners, giving the furniture a more sensual aspect. A cylinder of naturally eroded wood allows the user to store bathroom objects and supports the stone sink.
Were there any lessons learned during the experience?
For me, the art of design generates continuous learning, and each project is an experience to be utilized in the future. It is a great experience to work for a company such as Ronbow.
4. UNITY by Kurz Kurz Design
Kurz Kurz Design specializes in corporate product design – from children's cutlery to LED solar lamps – and is based in Solingen, Germany. Clients have included Hettich, Zwilling J.A. Henckels and William Sonoma. UNITY gives off a minimalist aesthetic with simple shapes and colors, and it keeps technology in mind with integrated electrical and USB outlets.

What was the idea behind UNITY?
The main idea behind the collection was having a young and fresh design based on naturalness and reduced shapes. We tried to design a modern bath collection that offers lots of functions and solutions for comfort, while still expressing simplicity. The inspiration was being at the sea – having the window wide open and time to relax.
Were there any lessons learned during the experience?
Getting the idea into reality, we had to experiment a lot with new technologies like the mirror light and the bent plywood. Thanks to Ronbow, we achieved excellent solutions.
5. NOCE by Matteo Thun & Antonio Rodriguez
Thun has taught design at the University of Applied Arts in Vienna and has served as art director for Awatch. Rodriguez was head of product design and partner of Matteo Thun & Partners before partnering with Thun under the industrial design firm MTDR. NOCE is their mid-century-inspired suite that includes vanities, hutches, wheel cabinets and two variations of vessel basins in a 1960s vintage style.
What was the idea behind NOCE?
According to Rodriguez, the collection was born from the desire to combine urban and contemporary classic style – keeping it simple while ensuring maximum comfort and innovative technologies. "Every bathroom should be as individual as the use you are making of it," added Thun. "This is why besides simplicity and timelessness, we focused on creating basic units that can be combined and customized by the user."
Were there any lessons learned during the experience?
"We have been working in the field of bathroom design for many years and have designed several collections for international brands," said Rodriguez. "We integrated our long-lasting experience in bathroom design for the Ronbow Signature Series to meet American standards."
6. & 7. STACK & WIDE BY Phoenix Design
Phoenix Design is an award-winning independent product and interface design studio based in Stuttgart, Germany. Clients have included Audi, Mercedes Benz and Sharp. STACK features layers of contrasting materials, colors and shapes and includes an integrated bench seat and side cabinet door storage with removable ceramic elements. WIDE offers clean, minimalistic design with wide cabinets topped with a white ceramic sinktop with a flared edge.
What was the idea behind STACK & WIDE? 

"Human-centered" and "brand-typical" are the two focuses of our approach. Universal design and general aspects like wellbeing, ecology and health were important for this project. To fit within a maximum of scenarios, we concentrated on combinations and creations for multifunctional living spaces. Bathroom intimacy is blending in with the coziness of the living room, thus Ronbow has the perfect timing to deliver high-quality bathroom furniture that matches the world of the rest of our homes.

STACK BY Phoenix Design
Were there any lessons learned during the experience?

Phoenix Design is one of the leading design studios in the sanitary industry in Europe –especially Germany. Working with Ronbow, we learned a lot about the American market too. 
Ronbow's team is deeply international and young. They are agile, smart and hungry, and this inspired me personally.

8. VENTO by Paolo Lugaro of Pininfarina 

Paolo Lugaro of Pininfarina was the lead designer on the project. Based in Cambiano, Turin, Italy, the firm is a widely known brand in Italian sports car design and also has expertise in electronics, furniture, machinery, graphic design and kitchen cabinetry. VENTO means wind in Italian, and this collection emulates that element through a sleek sinktop design inspired by smooth snowdrifts formed by strong winds.

What was the idea behind VENTO?
The idea was to leverage our solid experience in the furniture and interior design industry – combined with the use of new technologies – to create a collection with a unique and strong personality. We have recreated a natural landscape in the bathroom space – a place dedicated to taking care of yourself and restoring the body and mind. Inspiration came from the smooth and pure surface of the snow that becomes perfectly carved and designed by fast and strong winds.
Were there any lessons learned during the experience?
The interesting aspect of the project was the ability to address innovation. We have been able to integrate in a smooth and elegant way the technologies brought by Ronbow, specifically the LED and Bluetooth-enabled mirrors.
9. MARCO by Ramon Esteve
Ramon Esteve's architectural and design Studio in Valenia, Spain, is where the two design partners can collaborate and develop projects. He is a frequent speaker at the Polytechnic University of the Valencia School of Architecture. MARCO is a linear collection that focuses on essentials. It was inspired by the calmness and serenity of the landscapes of the Iberian Peninsula.

MARCO by Ramon Esteve
What was the idea behind MARCO?
The concept of the furniture design and bathroom elements preserves the idea of the ancient basins that are characterized by a structure of wood or metal that supports the porcelain sink. The same elements, with a contemporary proportion and formal simplicity, are the essence of this collection. Our aim was to achieve a contemporary, light bathroom collection that would fit in different spaces with different styles, including modern and also more classical as a contrast of its pure lines and simplicity.
Were there any lessons learned during the experience?

The product development with the Ronbow team was a good experience, and I learned a lot from that. It is a great company that offers a lot of high-quality solutions in the bathroom area.

10. PURE by Alexander Zhukovsky
Alexander Zhukovsky is an industrial designer based in St. Petersburg, Russia. He specializes in several disciplines, including lighting, furniture, medical and automotive. PURE features simple, pure lines in a glossy white finish and wood accents. The vanity, cabinet and mirror are all wall mounted.
What was the idea behind PURE?
The key idea behind this design can be expressed by the phrases "beauty of function" or "add more to your space." When I design furniture, I associate beauty not only with appearance; everything has a unique function, and I believe that each function has its own aesthetic. I wanted to create something simple and elegant but functional, and I tried to use space as effectively as possible, which is particularly evident in the mirror cabinet design. There are no useless elements and space; the entire volume of the cabinet is used.

Were there any lessons learned during the experience?

Undoubtedly it was an invaluable experience because of the communication with a large, professional team. That was a huge step ahead for me.

11. PEBBLE by Ora Ito
Ora Ito of Paris is ranked among the top 40 most influential people in the world of design, and his clients have included Toyota, Adidas and Heineken. He recently completed the MAMO, an art center in Marseille, France. PEBBLE is an organic and seamless design that strives to give its complex functions a simplistic look and feel. It features pebble-like shapes and curves and a glossy white finish.
What was the idea behind PEBBLE?
I wanted to create a natural, organic collection that can be used in a small space like a loft, as it is very freestanding. It is not something that has to go in a corner; it can live by itself. I wanted to convey that there is no barrier in the way we are using these elements – they are mobile and can easily be placed in a shared space. I focused on a new way of living rather than on the type of person who would purchase this. I would love to continue this program and go further by creating shower elements as well.