Kitchen Design Adeptly Addresses a Busy Life
---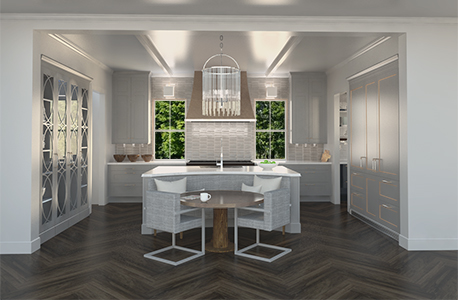 May 12, 2016
Atlanta-based designer Matthew Quinn worked closely with homeowner, Elizabeth Garvish – an immigration lawyer and mother of eight-month-old twins – to create a design to accommodate her busy lifestyle. The 1,000 sq.-ft. project in a newly constructed home includes a kitchen, powder room, walk-in pantry, bar, living space, mudroom and covered. 
"We've truly customized this year's House Beautiful Kitchen of the Year from the ground up," said Quinn. "[It] is designed with beautiful elements that I myself use on a daily basis, and the space represents my ultimate vision for the homeowner and her sons. It's durable, easy to clean and brings the family together in the home – all while evoking a sense of serenity and splendor." 
KBB talked with the designer to get some additional insight into the project, which is open to the public May 14-15 in the Buckhead neighborhood of Atlanta. 
KBB: What was the inspiration behind the design of this kitchen?
Quinn: In most of my designs, the homeowner and the architecture of the home are always my inspiration. In this project, the homeowner – who is a new mother with twin boys –loves pops of color, reflective surfaces and curves. After spending some time together, we both realized that we love a deep teal color, so I incorporated that into the high-gloss finish of the lacquered bar cabinetry, the glass tile in the pantry, the mudroom bath walls and in several fabrics. 
The stucco and brick home has wide- open rectangular spaces, large windows and transitional styling. We added several oval windows, curvy mullion patterns on glass cabinet doors and a radiused banquette at the island to soften the geometry.  
What goals did you set out to accomplish for the space?
I spend a considerable amount of time interviewing the homeowners on their cooking, shopping and entertaining needs, wants and habits. This homeowner loves to cook and entertain, so it was important that we create a kitchen that was command central to the entire first floor. 
Since caring for twin boys [can be] exhausting [for her], I designed a tight work triangle to minimize walking and avoid collisions with the active boys. It was also important to utilize low-maintenance and durable materials such as Caesarstone quartz countertops, factory-finish Downsview cabinetry and Thibaut Krypton fabrics.
How long did you have to design and create the kitchen?
I was asked to design the House Beautiful Kitchen of the Year in mid-August 2015. We needed to submit final plans to the city for approval six weeks later so we could break ground at the end of October. During those six weeks, every element besides fabric and paint color had to be selected and ordered.
What color palette did you choose for the space?
We chose a neutral palette of grays, taupes and beiges with a medium brown-stained oak floor as the foundation. The room is punctuated with accents of blue, deep teal, antique brass, stainless steel and chrome.  
What kind of cabinetry did you choose and why?
I chose Downsview Kitchens as the cabinet manufacturer. I have been designing and specifying this product since 1992 and love the customization, functionality and durability of their cabinets and finishes. The door style is actually one I designed for them a few years ago. I chose a Farrow and Ball color called "Dove Tale" for the perimeter and a gray-stained and glazed-cherry finish on the island. My favorite features are the glass walk-in pantry doors, the folding step stool in the island so the boys can help with prep and the deep teal lacquer cabinets in the bar.
What surfacing materials did you select?
I think a space is more interesting and layered when there are contrasts in the surfaces. For instance, I will typically use a glossy tile with a honed countertop. In this home, the honed Calacatta Nuvo Caesarstone countertops contrasted with the AKDO bronze glass tile backsplash. The raised grain Grothouse bar countertop with an antique nickel finish contrasts with the AKDO marble and gold gilded tile backsplash. The Matthew Quinn Collection antique brass and stainless steel cabinet hardware marries the Thermador stainless steel appliances with the brass Hudson Valley light fixtures and Francois and Co. brass range hood.  
What challenges did you overcome?
Besides what I mentioned above, the additional challenge here was to feature the latest and greatest collections or styles from each of the sponsors into the design. This required lots of coordination, careful editing and even politics.
House Beautiful's Kitchen of the Year features:
Appliances: Thermador
Cabinets: Downsview Kitchens
Ceiling Fans: Haiku Home
Countertops: Caesarstone & Grothouse
Custom Hood: Matthew Quinn Collection by Francois & Co.
Fabrics & Wallcoverings: Thibaut
Faucets: Ferguson Bath, Kitchen & Lighting Gallery & GROHE
Fireplaces: Napoleon
Hardware: Matthew Quinn Collection
Home Furnishings: Ballard Designs & Room & Board
Lighting: Corbett, Hudson Valley & Troy Lighting
Outdoor Furniture: Woodard
Paint: Farrow & Ball
Sinks: DXV by American Standard
Tile: AKDO
Vent Fans: Panasonic
Open to the public: 
Saturday, May 14 from 11 -4
Sunday, May 15 from 12-4
Shuttles and parking will be provided for all visitors at the Ritz Carlton Buckhead – 3434 Peachtree Road, Atlanta 30326.