Red Dot Announces 2015 Product Design Winners
---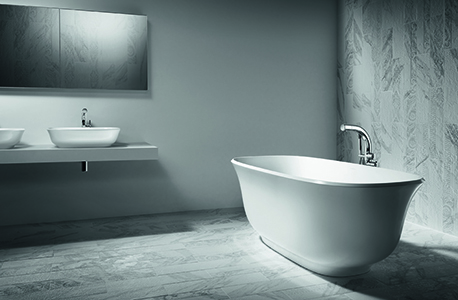 April 7, 2015
In an evaluation process spanning several days, a team of experts awarded the seal of quality for good design, the "Red Dot," to 1,240 products. Only 81 entries were bestowed with the honor of the top award, the "Red Dot: Best of the Best," while 122 won an Honorable Mention for a particularly well-executed aspect of design work. Categories include Living Rooms and Bedrooms; Kitchens, Kitchen Furnishings and Kitchen Appliances; and Bathrooms, Spas and Personal Care.


View a sneak peek of the kitchen and bath winners here.
As the award is celebrating its 60th anniversary, a specially selected jury included 38 design professionals from 25 countries to judge the 4,928 entries. These included new members, such as Danish fashion designer David Andersen, German materials expert Dr Sascha Peters and Wen-long Chen, CEO of the Taiwan Design Center. 

Experienced Red Dot jury members also added their expertise, such as Malaysian-born star designer Datuk' Professor Jimmy Choo, German product design icon Professor Werner Aisslinger and tangerine founder Martin Darbyshire from the UK. The jury worked together to rate each individual product according to functionality, degree of innovation, formal quality, ecological compatibility and other criteria.
The winners of the Red Dot Award: Product Design can use the winner label as a marketing tool and are integrated in the international PR activities of Red Dot. The Red Dot Design Museum Essen exhibits the award-winning products for at least one year, and the Red Dot Design Yearbook presents the year's best designs. All of the products and their makers are also featured in the online presentation and in the Red Dot 21 global design directory, as well as in the Red Dot App.
The award ceremony for the Red Dot Award: Product Design 2015 will take place on Monday, June 29th, 2015, when the full listing of winners will also be published.. The laureates of the Red Dot: Best of the Best, which is the highest award in the competition, will be honored during the gala in Essen's Aalto-Theater. Afterward, the guests and the prize winners will celebrate together in the Red Dot Design Museum in the midst of award-winning products at the Designers' Night after-show party.