Seattle Showhouse Designed Online
---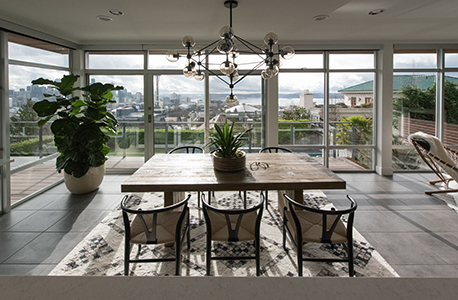 February 12, 2016
ATGStores.com has unveiled the Seattle Showhouse – the first designer
showhouse furnished and designed entirely online. The home brought
together top Seattle-based designers to recreate eight rooms in a
spacious, modern home in Seattle's Queen Anne neighborhood.
View a gallery of this project here.
Seattle designers Brian Paquette, Massucco Warner Miller, Pulp Design
Studios and LindHesse Design designed the living room/dining room,
family room, office and foyer, respectively; Ashley Redmond designed the
kitchen; Katja O'Brien and Melissa Schenck designed the girls' and
boys' rooms, respectively; and New York-based designer Alexa Hampton
designed the master bedroom.
"Designing the kitchen for the Seattle Showhouse virtually was easier than you might imagine," said Redmond.
"The most important things were understanding the needs of the family
and also getting really good photos of the space to select the right
finishes. I had a distinct vision for the space and shared a number of
images with the client to be sure that the family understood my vision
before we proceeded. Ultimately the outcome was great success, and the
client was so excited."

Designers had less than two weeks to shop for furnishings, design
layouts for the rooms, style the home and source additional décor
elements by Seattle artisans to add local flair – and they did it all
without stepping foot inside the home until it was time to complete the
transformation. 

The Seattle Showhouse is located at 167 Prospect Street in Seattle.