Seeing Product Perfect at ICFF
---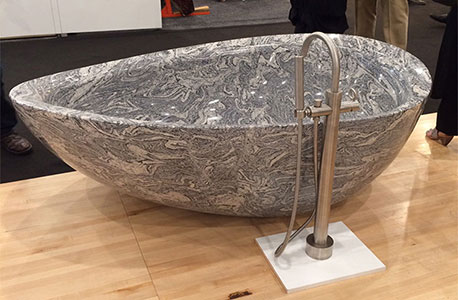 May 23, 2016
I recently attended the 29th-annual ICFF, North America's premiere trade showcase for architecture and high-end interior design, at New York City's Jacob K. Javits Convention Center from May 21-24, 2017. The show hosted more than 750 exhibitors from 30+ countries and more than 33,000 attendees, which included international architects, interior designers, developers, retailers and manufacturers.

Click for a collection of this year's products.
Exhibitor categories included kitchen and bath, furniture, lighting, carpet, flooring, textiles, wallcoverings and accessories for residential and commercial interiors, and I noticed several trends while I was there.
–    Variety in Finishes. Gold is making a comeback with more subdued tones, and there is a resurgence of darker finishes like black and dark browns and grays. Manufacturers are answering the call for powdercoated and matte finishes to contrast some of the shinier counterparts.
–    Toilet Technology. Hygiene is at the apex of importance both while using the fixture (bidets are coming, people!) and while closing or opening its lid; soft-touch and touchless options, as well as lips on the seats prevent users from having to have a "hands-on" experience with the toilet.
–    Innovation in Hardware. In a word, hardware is not boring anymore. There are still more traditional options out there for those who are not willing to take chances, but for those who are, the options are limitless. Stone, leather, metal – those were some of the material choices, but I also saw pieces made to emulate jewelry and some carved to look like dogs. Shower pulls – not top of mind when thinking of hardware – are also making a statement.
–    Lighting Statements. Lighting was the belle of the ball at ICFF; everywhere I looked, I saw something stunning. There was a fixture that incorporated glass-like balls that looked like snow; an ethereal display of paper-like flowers; grandiose chandeliers and pendants; and a luminescent sphere of diamond-shaped cells.
–    Matching Collections. There were a lot of bathroom fixture manufacturers who displayed a whole matching line of products, including faucets, handles, sinks, tub fillers and shower components for those who don't want to pick and choose and want everything from the same collection.
–    Totally Tile. I kept hearing and seeing that "hexagons are in!" Textured, 3D tiles were also all the rage, as well as reversed texture tiles.
Something that wasn't new but is obviously being improved upon is the flexibility of storage in vanities. Now there are movable options for those who want to customize their drawers on a regular basis.
There were several product launches being debuted at the show and the promise of even more at KBIS 2017. A lot of companies were celebrating anniversaries with new products, including THG's Numero 60. I had fun at ICFF celebrating right along with them!