Sherwin-Williams Unveils ColorMix 2016
---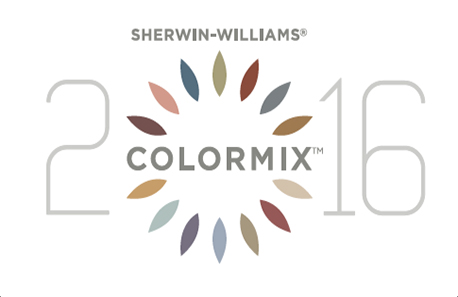 June 15, 2015
Sherwin-Williams has released the Colormix 2016 collection. This year's annual forecast collection has a positive outlook and highlights mindfulness, happiness, indulgence and wellbeing. Vintage workmanship, social engagement and future technologies are also reflected in the collection's four color stories.

Jackie Jordan, the director of color marketing at Sherwin-Williams, gave K+BB an insider's look at how the palettes are chosen and why.
"Every February when we meet, we look at what we've compiled and figure out which one of those conversations have the most support and are the most resonating," she said. "From there we determine what consumer behaviors are and what's happening in pop culture, literature, theater and fashion – all of those things play an important role, as well as our mindset."
Jordan, along with Sherwin-Williams color experts, researched global trends to determine the 34 colors that make up the forecast. The colors are grouped into four palettes: Pura Vida, Mas Amor Por Favor, Nouveau Narrative and Trajectory.

Pura Vida
An upsurge in health and wellbeing inspired the Pura Vida palette. Taking from natural elements, such as stone, alabaster and sand, as well as natural fibers, such as cotton and jute, the colors of Pura Vida remind people to be conscientious of their overall wellness and are vital for creating spaces to unplug. Nomadic sand baths, therapeutic massage and the natural materials reminiscent of those treatments influenced the palette. It includes honed and sheer tones, marble hues, warm grays, khaki tones and blushed neutrals.
"It's still about finding balance in our lives and getting away from the hectic lifestyles that we have," said Jordan, who pointed to Wellness Real Estate, an architecture and design firm at the front of this trend. "This year we're talking more about health and wellness and holistic practices and all those things that are really therapeutic and things that we really need to make our lives more balanced."
Mas Amor Por Favor
This palette is driven by in-person social engagements as people rediscover the pleasures of intimate gatherings, garden parties, personalized outdoor weddings, multifamily living and playful indulgences like champagne towers and vintage florals. This palette connects across generations with dashing greens, cheeky pinks and a flower power that is as crisply modern as it is soulfully vintage.
"This one is a fun palette," said Jordan. "You look at this palette and you want to smile. The colors have nostalgia to them and a little bit of a retro hint. The combination can be really fun."
Though the theme started with an artist in San Paolo, Italy, the palette also draws from wedding inspirations, which are now focusing more on the personalities of the bride and groom.
"It showcases the good in the world," she added. "It's really fun and is just about giving yourself happy colors."
Nouveau Narrative
This palette celebrates the return of skilled labor and an appreciation for quality craftsmanship and small-batch production. The colors also look to the past to inspire our future, driven by new aesthetics collaged from the pages of history books with curated thrift stores, the new Maker Movement and industrial-influenced style.
"It's a new way of speaking about artisan materials and handcrafted things," said Jordan. "There's an interesting duality going on with industrial evolution versus industrial revolution. The palette is somewhat reflective of our history but rustic in a sense. It's very usable and brings warmth and depth into an interior."

Trajectory
"This is kind of our emerging trend," said Jordan, who added that one of the forecast palettes for 2015, Voyage, similarly highlighted space and water exploration. "Trajectory is about this next step in discovery and how we don't really know what we're going to make with it yet."


Augmented reality, 3D printers, drones and new apps drive this idea with moody colors. The palette is filled with icy blues, shimmering pewter and sophisticated plums showcased in gloss finishes.

Design professionals are encouraged to visit swcolor.com to view the colormix 2016 palettes, as well as all Sherwin-Williams colors and collections, links to downloadable palettes for use in color-rendering software and access the online Color Visualizer. Designers can also register on myS-W.com and order large-sized color swatches and fan decks.