Start Drawing
---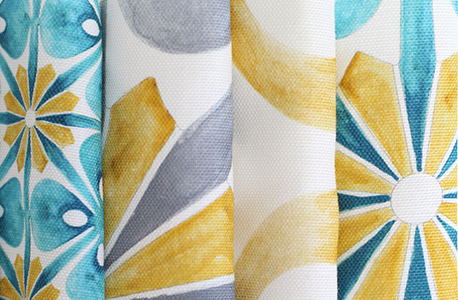 August 28, 2015

Los Angeles-based designer Sandra Espinet of S.E. Design Services recently launched a new fabric collection for Guildery Fabrics in Los Altos, Calif. Speaking with K+BB, Espinet offered insight into how she developed her line and how other designers can start one too.
How were you involved in the design?
SE: I was 100 percent involved, so I water-colored my designs and presented them to Guildery Fabrics. I brought them my original artwork as well as paint chip samples of colors I liked.
From where did the inspiration for the design come?
SE: Inspiration is a funny thing. No one knows were it comes from or how it comes about. And no one has the monopoly on it (except Tom Ford). I just woke up one day ready to watercolor, and this is what came out. A mood? A feeling? Both?

How/when did you begin your line in the first place?
SE: This collaboration and fabric line with Guildery was a very fast venture. From the day we met to the New York launch date was only two months. We have several other collections that will be launching with them throughout the year.

How does this go along with your design work?
SE: All designers use fabric to upholster, make pillows and drapery, etc. So it is really fun for me to contribute to the design library of what is available on the market. I will be making pillows out of these fabrics, and they will be sold in my store. I also hope to use some in client projects. 

What practical steps can a designer take to start a line?
SE: There are many ways to launch a fabric line. You can design and manufacture it yourself with the assistance of a mill, which can make the custom fabrics for you. You can also work with an existing fabric company and design a specific custom line for them. It really depends on how much time you have available to devote to the success of the sales. 


As far as design and inspiration for your designs, I think the best and most successful collections I have seen from other designers seem to be those that directly relate to the designer's brand and design aesthetic. Having a clear direction of your brand always helps you edit your ideas.
What advice would you give another designer starting from scratch on a collection?
SE: Draw. Get the pencil to the paper and just get started. So many people have ideas, but so few get them out of their head.