Stepping Up to Help
---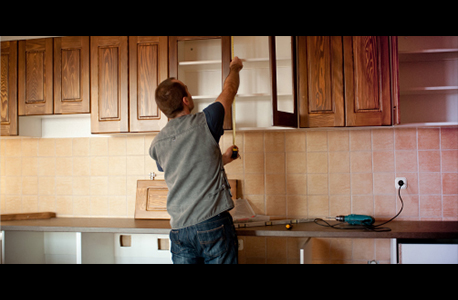 January 4, 2016
Deer Park, Texas homeowner Ninfa Vasquez's problems began when she unknowingly hired a convicted thief as a contractor to remodel her kitchen. The swindler did the original kitchen demolition, but then he took a $9,000 deposit and never returned. For nearly two years the widow, who was living on a fixed income, was left without a place to cook, pay bills or host family gatherings. 
                      

                                           Before the Renovations
When NKBA member Matt Hegemier of League City, Texas-based Midtown Cabinetry & Designs learned of Vasquez's story broadcast on television, he and other local businesses stepped in to help. General contractor J. Shelly Services donated time to install a new kitchen for Vasquez, while KB Floors provided flooring. Bay Coast Plumbing provided plumbing installation, Brian Grissom donated time and electrical work, and Solid Rock Surfaces donated granite countertops.

"As far as kitchen remodels go, this project was very modest, but I think it meant the world to this very deserving woman and her family," says Hegemier, a member and Chapter Representative of the NKBA Texas Gulf Coast Chapter.
              

                                    Before the Renovations

KBB spoke with Hegemier to find out more.


What inspired you to help this homeowner?
 Our vice president of programs, Lilly Powell on the Texas Gulf Coast Chapter's Board, saw a news broadcast of how Mrs. Vasquez was wronged and shared the news clip with the chapter and asked if there was something we could do to help this lady. I said I thought I could do it and set up a meeting with Mrs. Vasquez.


What other businesses stepped in to help and how?
I had a contractor friend help me with some of the labor. He and I reframed a wall and installed the cabinets. He also helped meet people when I was not able to. It seemed when I agreed to do the project I had some time, but afterward [I] as well as the entire area, got busy. This made getting help a little harder, so I started paying people to do things like plumbing, electrical and sheetrock that I am not as competent with.


What were the homeowner's goals for the new renovation and how did you help achieve them?
She wanted to be able to use her kitchen again. She was not picky at all with what we placed in the kitchen. The house had several problems that had to be addressed. The AC/heating unit was in terrible shape, and the homeowners were able to pay to get this back in working order. The ceiling needed repairs in the hallway and bedroom. So my goal was to get the kitchen back in working order and repair what was absolutely necessary because the house in general needed a lot of work. The NKBA chapter donated the money to get the kitchen started and has agreed to pay any remaining invoices I need paid.

Vasquez says that her new kitchen is more beautiful and much more luxurious than she originally planned. According to Hegemier, this past holiday was the first time Vasquez was able to cook thanksgiving and Christmas dinner since 2013.