SurfaceSet 2016 Student Innovation Winners Announced
---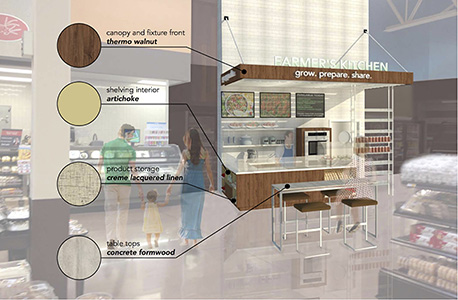 December 28, 2015
Formica Corporation has announced the winners of the inaugural SurfaceSet 2016 Student Innovation Competition. A panel of design professionals, including designer Jonathan Adler, selected the first-place winner, Elizabeth Ickes from the University of Cincinnati. The panel also selected a second-place winner, Megan Miller from the University of Minnesota, and a third-place winner, Caitlin Bakofsky from Philadelphia University.
View a gallery of the winners here.
Students were invited to submit a design of a commercial space using a minimum of three products from SurfaceSet 2016, a collection of 35 new Formica Brand laminates inspired by nature and minimalism. The aspiring professionals submitted a color rendering, along with a description of what was integral to the design.
"We were very happy with the quality of submissions for the SurfaceSet Student Innovation Competition," said Renee Hytry Derrington, vice president of design at Formia Corporation. "In the end, we chose the student whose design had the best overall aesthetics, demonstrated an understanding of the intersection between design and function and used Formica Brand products in a variety of applications."

The contest judges, in addition to Jonathan Adler and Renee Hytry Derrington, included Gerri Chmiel, North America residential design lead for Formica Corporation; and Scott Dannenfelser, North America commercial design lead for Formica Corporation.