The Future of Home Design
---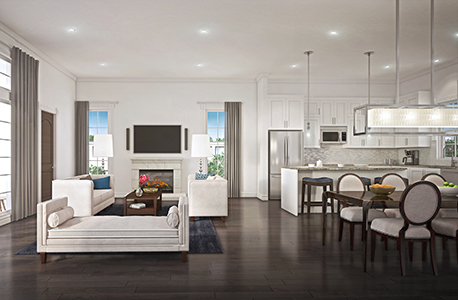 March 10, 2016
Houston-based Surge Homes, a residential real estate developer and builder, is taking advantage of the trend for curated, professionally designed homes. To launch two local communities this month with seven more in the works, the developer took an innovative approach to attracting future clients by crowd sourcing and using social media. Austin, Texas-based November Design Group and the in-house Surge Homes design team then stepped in to design ensembles for 41 kitchens and 29 bathrooms.
The crowd-sourcing campaign took place across digital forums, in-person events and one-on-one discussions – gleaning feedback from community members, neighbors and prospective buyers. More than 3,400 people were presented with a number of options, like cabinetry, flooring, countertops, backsplashes and wall tiles. Surge Homes took participant feedback to Tendances Concept, a French-Canadian manufacturer, who in turn improved on the selections and provided additional options.

Surge Homes Kitchen Rendering
"There were several rounds of back and forth," explained Louis Conrad, co-owner of Surge Homes, who explained that the firm stepped in after the crowd sourcing to help coordinate the kitchen and bath interior design packages.
For Houston's metro area, the trends were often in tune with the rest of the nation. Participants were interested in neutrals, particularly shades of gray, as well as taupe, cream and black and white. Cleaner, straighter lines – both in contemporary and rustic looks – are evident, along with textured tiles and wood plank detailing. The community chose finishes that mimic linen fabric or concrete floors and larger tile sizes as well.
"We were told by many other builders in the area that Houstonians would only be interested in traditional designs," said Conrad. "That couldn't be further from the truth."

Surge Homes Kitchen Rendering
This became obvious in the cabinetry preferences: matte and gloss primarily, as well as synthetic materials and floating cabinetry. The traditional Shaker cabinet is reimagined for Houstonians, with a groove not as deep as the original and a synthetic wood in a variety of colors.
"Houston is now a modern, cosmopolitan city with immigrants living here from all over the world, and its design style reflects a progressive population," he said. "We've created a unique design collection consisting of modern European design blended with Texas textures."