Trends Shaping the Industry
---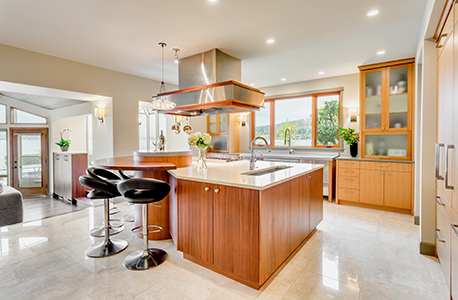 February 8, 2016
For the 2016 NKBA Design Trends Survey, more than 450 NKBA members from across the country reported the materials, product types and design styles they specified during the past year in response to changing consumer preferences. Ideal for identifying trends in kitchens in the $20,000 to $49,000 price range and up, as well as bathrooms in the $10,000 to $30,000 range and up, these findings help spotlight dominant preferences in several different types of households.


View a gallery of a NKBA insider's insights here.
Top 10 Kitchen Trends for 2016
1. Transitional style, clean lines and less ornamentation
2. Two or more cabinet colors/finishes in the same kitchen, often in a light/dark combo
3. Pullouts, tilt-outs and tilt-ins for ease of storage, trash and recycling
4. The look of wood flooring dominates, be it actual wood or wood-look ceramic tile.
5. Different countertops for islands and the perimeter, varying in both color and material
6. Outdoor kitchens, most popular in the Southeast
7. Built-in coffee stations and wet bars, as well as built0in wine refrigerators
8. Pocket doors
9. Pet spaces, including built-in feeding stations, food storage and crates
10. Docking and charging stations
Top Bathroom Trends for 2016
1. Greater acceptance of aging-in-place amenities: no threshold shower, grab bars, higher vanity heights, chair-height toilets
2. Transitional is pulling away from contemporary. Transitional is the most popular style
3. Neutral colors rule in the bath, with white as the most popular fixture color.
4. More open shelving and floating vanities
5. More built-in storage functionality: more rollout shelves in bath cabinetry, more hidden electrical outlets for blow dryers, etc.
6. Undermount sinks are the most popular sink style, with a trough sink emerging.
7. When tubs are installed in master bathrooms, they are most likely to be freestanding.
8. Increasing use of shower amenities
9. Polished chrome is the most popular faucet finish.
10. Other popular amenities include easy maintenance features, electric radiant floor heating and a TV in the mirror.