Viva Italia Design!
---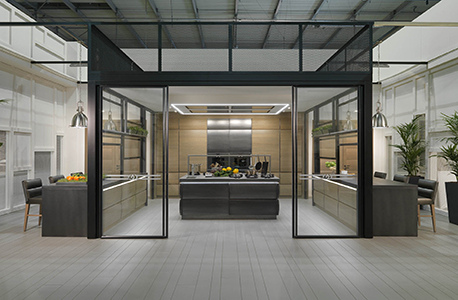 April 17, 2016
Modenus and its Design Hounds were recently at EuroCucina and the International Bathroom Show – two events under the umbrella of Salone del Mobile that took place in Milan from April 12-17. The Hounds compiled their favorite finds and key trends from the two shows, which included a broad range of designs and styles.
View a gallery of designers' picks here.
The initiative was led by Veronika Miller, founder of Modenus (modenus.com) and the Design Hounds (designhounds.com), and included industry professionals from the U.S., Canada and the U.K. The group explored design innovations and trends at the show and at offsite venues in and around Milan.
"Manufacturers have certainly not been idle since the last show in 2014, and it showed – with an emphasis on new finishes, textures and in many cases, shapes," said Miller. "As always in Europe, functionality and ergonomics were a big topic, but in terms of styles, we saw a move away from cool modern designs toward much warmer and organic looks – often nature- and sometimes art-inspired collections. A refreshing direction!"
Modenus.com is a digital design directory offering inspiration and information for kitchens, baths and interiors and features consumer and trade-only portals. Designhounds.com is Modenus Media's new user-generated publishing platform that allows anyone interested in design to create a personal "magazine" of social media and blog feeds and original content.

The Hounds
– Lynn Byrne, award-winning blogger and freelance writer based in Montauk and New York City (desorartsnow.com)
– Maureen Coates, a certified interior decorator based in Ottawa, Canada (modecor.ca)
– Beth Dotolo, co-owner of Pulp Design Studios based in Seattle, and Carolina Gentry, co-owner of Pulp Design Studios based in Dallas (pulpdesignstudios.com)
– Susie Feia, owner of Feia Construction based in Milwaukee (feiaconstruction.com)
– Heather Jenkinson, interior designer and color consultant based in London (heatherjenkinson.co.uk)
– Mary Middleton, interior designer and blogger based in Brighton, U.K. (hellopeagreen.com)
-Richard T. Anuszkiewicz, executive director of the Kitchen and Bath Division of Annapolis, MD-based Alt Breeding Schwarz Architects
– Veronika Miller, founder of Modenus (modenus.com) and Design Hounds based in Orlando (designhounds.com)