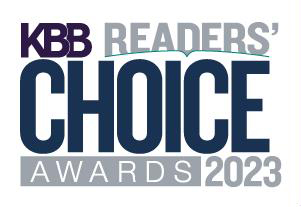 2023 Readers' Choice Award Winners
It's that time of year again! For our 11th-annual Readers' Choice Competition, Kitchen & Bath Business magazine received more than 20,000 votes from our readers on their picks for the top kitchen and bath brands and manufacturers. Readers chose their favorites based on three criteria overall: local availability, support from supplier/manufacturer and price point for their typical client budget, as well as category-specific criteria.
Categories, which are listed alphabetically, cover all aspects of kitchen and bath design. Throughout this issue of the magazine, you will learn more about our 2023 winners and what makes them stand out from their competition. The best of the best were chosen for a reason, so maybe you can even add a few new brands to your coveted go-to list.
Congratulations to our 2023 winners!
— Chelsie Butler, Executive Editor
Kitchen & Bath Business