Excitement Electrifies KBIS 2018
---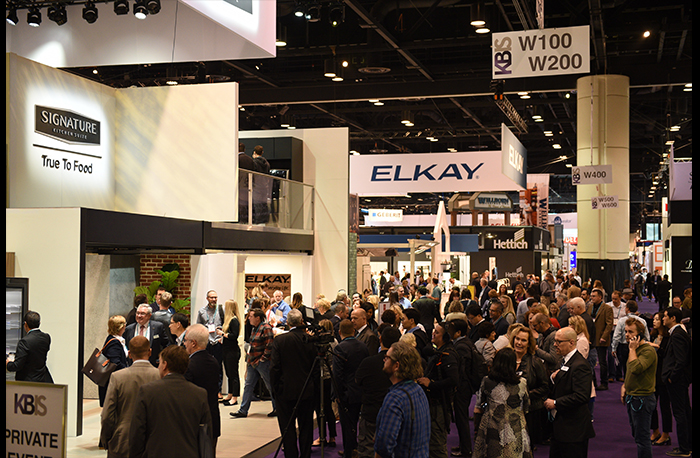 January 23, 2018
The 2018 Kitchen & Bath Industry Show (KBIS), the destination for kitchen and bath design professionals, welcomed designers, builders, dealers and kitchen and bath showroom professionals along with more than 600 exhibitors to Orlando January 9-11. Early, unverified estimates suggest an increase in professional attendance over the previous year; the fifth-consecutive year of professional attendee growth. Floor space was also up, expanding to more than 400,000 square feet in 2018. KBIS 2019 will take place February 19-21 in Las Vegas.
"KBIS 2018 was incredible; exhibitors introduced amazing new innovations this year and the energy on the show floor was electric," said Suzie Williford, vice president of industry relations and chief strategy officer, National Kitchen & Bath Association (NKBA). "What a positive start to the new year for our industry. From our most recent research study, the NKBA expects growth to continue throughout 2018. Our community of manufacturers, design professionals, showrooms and builders have an incredible opportunity to carry the momentum gained at KBIS forward throughout the year."
Highlights from KBIS 2018
The NKBA once again hosted the State of the Association Address, with CEO Bill Darcy, and State of the Industry Discussion, with a panel of industry experts discussing annual design trends and economic research studies taking place in the kitchen and bath industry, which is valued at more than $147 billion. Moderating this year's panel was Fox News and Fox Business anchor Melissa Francis. She was joined by David Kohler, president and CEO of Kohler Co.; Rick Hasselbeck, Chief Commercial Officer of GE Appliances; and Scott Culbreth, senior vice president & CFO of American Woodmark Corp.
During Darcy's State of the Association address, he revealed results of the latest NKBA research, "the 2017-2018 Kitchen and Bath Market Outlook." The study revealed that homeowners spent more than $54.4 billion for major/complete kitchen remodels and more than $38.5 billion for major/complete bath remodels in 2016. The study projects the U.S. residential kitchen and bath market will increase more than 10 percent in 2017 to an estimated $163 billion and estimates the market will grow an additional nine percent to $178 billion in 2018.
The panel discussion immediately followed, and the executives spoke about macroeconomic issues affecting the residential building and remodeling industry, the tight labor market, changes in U.S. trade policies and more.
On the KBIS show floor, programs for attendees to network, learn and connect with members of the industry extended throughout all three days, with much of the activity taking place at the NKBA presents KBISNeXT Stage, sponsored by HomeAdvisor, and at 80 the Voices from the Industry Conference educational sessions.
KBIS continued its coveted Best of KBIS Awards this year, sponsored again by Beautiful Kitchens & Baths, Traditional Home and Dream Kitchens & Baths magazine brands from the Meredith Corp. The judging committee scoured the KBIS show floor discovering the best innovations introduced at KBIS 2018. Several brands were recognized, with Kallista taking home Best in Show for its new product, Grid. All award winners by category can be found on the KBIS Digital Pressroom.
The KBIS Innovative Showroom Awards were also front and center this year, sponsored again by LIXIL Americas Brands – American Standard, DXV and GROHE, with incredible submissions from showrooms across the country. Our KBIS Innovative Showroom advisory board had the exciting challenge of selecting winners in six categories, ultimately naming Empire Kitchen & Bath as the Overall Award Winner.
The NKBA, along with KBIS, hosted the "This Old House" team and kicked off 2018 by supporting the Generation Next philanthropic campaign to encourage and empower young people to join the skilled trades. Norm Abram, Kevin O'Connor and This Old House personalities took to the Fairway Architectural Railing Stage in the KBIS Backyard to speak about the great work done by the Design & Construction Week industry partners throughout 2017 and all the work yet to be done in 2018. The NKBA got the ball rolling with a $10,000 donation. The event included a silent auction and raffle on stage, and all proceeds from the campaign went to the Skilled Labor Fund.
Another feature this year – the KBISNeXT Stage – hosted design experts, celebrity hosts and young professionals, all sharing insights into the industry's need-to-know topics to educate, inspire and connect members of the kitchen and bath business. The stage kicked off on Day One with excitement as Nancy Fire, design director for HGTV, sat down with Vanilla Ice, pop icon and host of DIY Network's "The Vanilla Ice Project" and "Vanilla Ice Goes Amish," to discuss his approach to kitchen, bath and outdoor living design challenges.
"Thank you to our KBIS attendees and exhibiting brands who continue to support us year after year," said Brian Pagel, senior vice president, Emerald Expositions. "I'm very proud of the entire KBIS team, who once again delivered an exceptional show experience to our audience. KBIS continues to grow and thrive as the kitchen and bath industry's premier annual event. We're now seeing KBIS becoming a must-attend event for more and more global brands and designers as well; a testament to the value KBIS brings the industry as a whole. We look forward to bringing the KBIS community together once again when we move to Las Vegas in 2019."
As a founding member of Design & Construction Week® and in collaboration with the National Association of Home Builders (NAHB), KBIS co-located with the International Builders' Show (IBS) for the fifth-consecutive year. KBIS is owned by the National Kitchen & Bath Association.