A Nod to Four Inductees of the NKBA Kitchen & Bath Industry Hall of Fame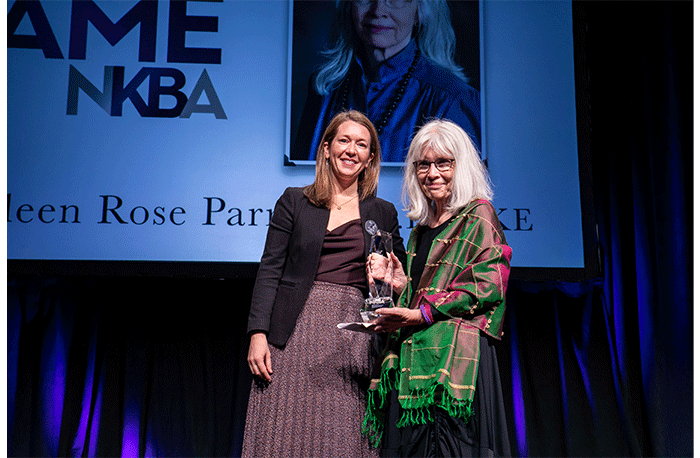 October 27, 2023
The NKBA Kitchen & Bath Industry Hall of Fame recognizes the innovators whose creativity and passion have driven extraordinary differences in these essential spaces and the industry as a whole. They might be honored for inventing a revolutionary product or technology or creating an innovative design that affects the very way we interact in these spaces. Some have redefined how products are made, sold or distributed, others have displayed an overall dedication and service to the industry or NKBA, while others have cultivated the next generation of industry professionals.
Above photo: NKBA Chair Allison Lowrie inducts Kathleen Rose Parrott, Ph.D., CKE, into the
National Kitchen & Bath Industry Hall of Fame at KBIS 2020 in Las Vegas.
Since 1989, the Hall of Fame has honored nearly 100 inductees who have contributed to the growth and professionalism of the association and the kitchen and bath industry. Individuals are nominated by NKBA members, then reviewed by a standing program committee and recommended for fi nal approval by the NKBA Board of Directors.
Here's a spotlight on four NKBA Hall of Fame inductees we are celebrating for their commitment to the future, whether they are leaders in education, environmentalism or accessibility within the kitchen and bath industry and beyond.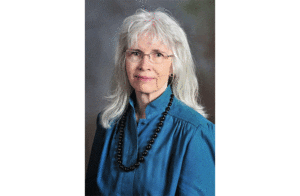 KATHLEEN PARROTT, PH.D., CKE, INDUCTED 2020
Kathleen Parrott has devoted her career to educating aspiring kitchen, bath and home designers. A professor in Virginia Tech's Department of Apparel, Housing and Resource Management, Parrott was instrumental in creating NKBA's Professional Resource Library as a co-author of the landmark kitchen and bath planning guidelines. She is a Certified Kitchen Educator and founding faculty member of Virginia Tech's Center for Real Life Kitchen Design, where she is chair of its advisory board. She has been published in numerous prestigious academic journals and brings a consistently high level of intellect, knowledge and professionalism to all her endeavors.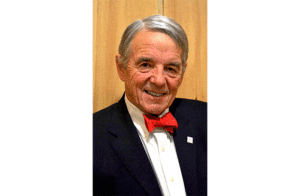 GUNNAR BALDWIN, CLIPP, INDUCTED 2016
Water conservationist Gunnar Baldwin joined TOTO in 1990, when the Japan-based manufacturer opened its American subsidiary. He represented TOTO on several green building committees, including the first U.S. Green Building Council Water Efficiency Technical Advisory Group, and was a charter director of the Alliance for Water Efficiency. In the '70s, he pioneered the first code-approved, low-consumption toilet to reduce the environmental impact of wastewater, and he has lobbied for incentives for water conservation and trumpeted universal design. A member-employee of Leadership in Energy and Environmental Design, Baldwin is now semi-retired, consulting as a water efficiency specialist.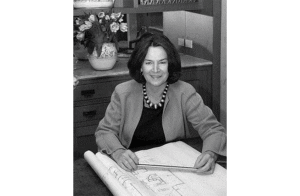 MARY JO PETERSON, CMKBD, CAPS, CAASH, INDUCTED 2009
An author, speaker and instructor for NKBA, Mary Jo Peterson owns her namesake design practice that is focused on residential and commercial building projects. She has trained staff on incorporating universal design principles, including national builders on the design of spaces and manufacturers on the design of products. An advocate for change toward and education in the integration of access, sustainability and beautiful design, Peterson has been lauded for excellence in universal design by NKBA, NAHB 50+ Housing Council, the National Endowment for the Arts, the Building Sciences Museum, AIA, Easter Seals and Century 21 in the Easy Access Housing Awards.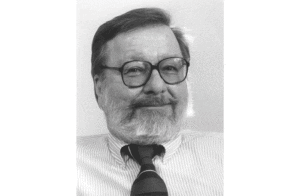 RONALD L. MACE, FAIA, INDUCTED 2002
Ronald Mace was an internationally recognized architect, educator and product designer, best known for coining the term "universal design." Stricken by polio at age nine and confined to a wheelchair for life, he turned his personal challenge into a lifelong pursuit for accessibility for all. He became an architect, then an advocate for accessibility in building design, playing a pivotal role in the 1973 adoption of Chapter 11X in North Carolina, the first accessibility-focused building code in the U.S. In 1989, Mace co-founded the Center for Accessible Housing (later the Center for Universal Design), and in 1992 he received an award from President George W. Bush for "distinguished service in promoting dignity, equality, independence and employment of people with disabilities." Mace died in 1998, a week after the inaugural conference on "Designing for the 21st Century," which the Center for Universal Design sponsored under Mace's direction. The conference drew more than 400 participants from more than 20 countries.
To learn more about the NKBA's Kitchen & Bath Industry Hall of Fame or to nominate a professional making a contribution to our industry, click here.
By Dianne M. Pogoda, NKBA writer