A Preview of KBIS 2024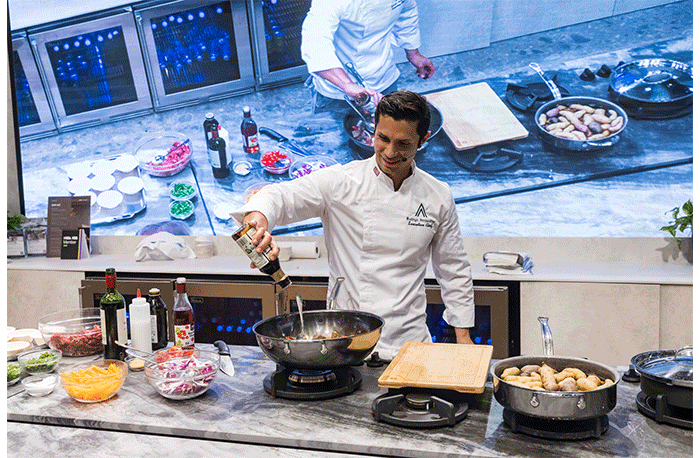 October 10, 2023
The Kitchen & Bath Industry Show, North America's largest trade show dedicated to all aspects of kitchen and bath design, is taking place again in Las Vegas from Feb. 27-29, and registration is now open.* KBIS is co-located with the NAHB International Builders Show, which together make up Design & Construction Week,® and attracts more than 100,000 design and construction professionals between both events.
KBIS 2024, owned by NKBA and produced by Emerald Expositions, is on track to host more than 500 leading-edge exhibitors. The show is also growing by an additional 50,000 square feet for a total of 450,000. More than 120 new exhibitors are expected from brands all over the world, and new expansions include offerings for outdoor kitchens, laundry rooms, bedrooms and walk-in closets. Read on for a preview of KBIS 2024.
Show Hits & Highlights
• The DCW Outdoor Living Pavilion will highlight what's new and notable in outdoor living products.
• The new Luxury Talks Lounge will feature brands new to KBIS with leading designers sharing luxury trends and design best practices.
• The German Pavilion will showcase K&B brands from Germany.
• The Kickstarter Zone will feature new brands to the market that have never exhibited at KBIS.
• The NKBA Kitchen & Bath Design + Industry Awards will take place on Feb. 26.
• Voices from the Industry will feature more than 80 educational sessions from today's thought leaders.
If all that isn't enough to convince you that this isn't an event to be missed, think about all else that will be taking place in the entertainment capital of the world. We pulled together a list of exciting events to attend and sumptuous restaurants for you to try after enjoying a successful day at the show.
*Take advantage of early-bird rates from Oct. 1 to Dec. 10. Click for a full list of rates.
Vegas Hits & Highlights: New Eats
– Kaia Handroll is a new eatery in the art and entertainment district of AREA15. The venue prides itself on its modern take on sushi handrolls and innovative cocktails. Guests can enjoy a wall of AI-generated artwork and a water-inspired design.
– Caesars Palace recently welcomed Brasserie B by Bobby Flay, a French concept offering a brunch, lunch and dinner menu.
– La Popular CDMX has opened a third location in the Palms Casino Resort. The chef-driven restaurant serves traditional dishes with contemporary flair, with some specialty items exclusive to the new space. Agave-centric cocktails round out the extensive menu, and the interior features a disco ball, Mexico-inspired greenery and a taco station.
– Guy Fieri's Flavortown Sports Kitchen is open at Horseshoe Las Vegas.
– The Sundry at Uncommons is a new destination food hall featuring regional and international dishes from award-winning chefs.

Awakening at Wynn Las Vegas
New Attractions
The Sphere at The Venetian Resort will feature an 17,600-seat auditorium and 580,000 square feet of what is called the Exosphere on its exterior, which is made up of 48 LED diodes, with each able to display 256 million colors. The world's largest spherical structure is scheduled to open this month with U2 as the opening headliner, and in February 2024, visitors can enjoy The Sphere Experience featuring Darren Aronofsky's "Postcard from Earth."
Wynn Las Vegas is home to the new Awakening theatrical event, which features acrobatics and aerialists performing to an original music score. The 80-minute Awakening 360-experience is directed by Baz Halpin, choreographed by Mandy Moore and narrated by award-winning actor, Anthony Hopkins. Photo credit: Wynn Las Vegas
The Ipanema Tower at the Rio Hotel & Casino is undergoing the renovation of its guest rooms and suites, which will be upgraded with new furnishings, including a 65-inch TV, a queen-size pullout bed and a tub-to-shower conversion. Dreamscape Cos. is partnering with several renowned architectural and design firms for the project, including Fettle, GGID, Lifescapes International and Marnell Architecture Planning & Design. Completion is expected the first quarter of 2024, and the property will remain open during the renovations.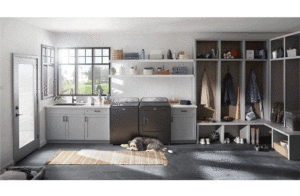 Maytag's Pet Pro Top-Load Washer and Electric Dryer
Brand Buzz at KBIS 2024
For Whirlpool Corp., exhibiting at KBIS is all about being able to connect with customers in person –sharing recent innovations that can help make their jobs easier in improving life at home for their own customers. KBIS 2024 will be the first year Whirlpool has exhibited, as ever since 2016, the corporation has only had a booth on the International Builders' Show side. The company will feature its complete product portfolio from all its brands, including Whirlpool, Maytag, KitchenAid and JennAir. The booth will showcase products appealing to an array of consumers with varying tastes in design at a wide range of price points. Be on the lookout for energy-efficient offerings, flush microwaves and laundry solutions for pets.
The Rhyme and Reason Collection from Marazzi
Daltile, which also includes Marazzi and American Olean, is another first timer to KBIS. The three brands will feature tile, countertop and stone offerings in realistic designs with slip-resistant features and enhanced cleanliness.
"We have exhibited at IBS for several years, and given the attendee traffic flow between IBS and KBIS, we are really looking forward to connecting with both show's audiences at the same time," said Paij Thorn-Brooks, vice president of marketing, Dal-Tile LLC. Booth #N223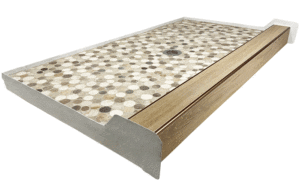 Muraflo's Celestial Collection shower tray in Solar Flare
Muraflo is exhibiting at KBIS for the first time, in anticipation of company expansion in 2024 and 2025. Visitors to the booth will see first-hand the brand's selection of fully finished shower trays featuring natural pebbles and porcelain curbs, which are designed to save on installation time without compromising the design.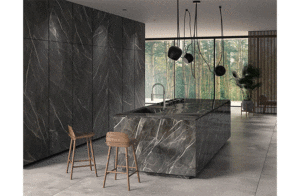 Calacatta Black from Laminam's Diamond Series
Laminam's goal in exhibiting at KBIS is to connect with attendees and ensure they know about the beautiful design applications for its large-format surfaces. The Italian manufacturer is focused on growing its presence in North America and as such is interested to know which factors have an impact on design pros' choice of residential surfaces. Laminam will feature new colors from the I Naturali and Diamond collections, and its slabs feature 20-60% pre-consumption recycled materials and can be recycled. According to Fernanda Nogueira, director of marketing for Laminam North America, "With sustainability playing a vital role within the design industry, attendees will gain insight into a surface option that prioritizes sustainable practices. That is at the core of our values, and we want to ensure everyone knows it."
Attendee Feedback
Spotting trends and new gadgetry is always something that makes me giggle with delight. Thinking about how I might utilize these new items in the upcoming months after the show for projects really gets my juices going. Tile and hardware are certainly where the jewelry of kitchens comes to life, so that's always a fun exploration. I'm always excited to see innovation when it comes to appliances.
Meredith Weiss, President of Merri Interiors
For me, KBIS is saying hey to dear old friends, while being surrounded by new inspiration everywhere. I love meeting new people and making new connections; some of which I have made at KBIS in the past have been very meaningful.
Jack Bernstein, Founder at Kurrent Kitchen and Bath
KBIS is my go-to for the most current, trend-setting products. On top of that, the showrooms and booth displays are out of this world. Networking is also crucial in my career, and by multi-tasking product learning and socializing with colleagues and vendors, it's truly a win-win!
John McClain, CEO & Creative Director, John McClain Design, Orlando, Fla.
I'm most looking forward to walking the show floor with my closest contractors and craftspeople to see what makes the biggest impression on them. If they love it and think it's interesting, it'll more than likely be a hit with our clients – and I will already have my team's buy-in!
Wendy Glaister, Owner & Principal of Wendy Glaister Interiors
I love KBIS! So much to learn and see, and I always come back with new ideas and material options for my clients. This is the place to be to grow your business and yourself as a designer.
Anna Gibson, CKBD, Owner & Chief Designer, AKG Design Studio
I'm researching two new seminars – one on water therapy and another on air quality – so I'll be hyper focused to see products that support those categories. I'm always focused on accessibility, but I'm really interested in seeing how appliances are addressing aging in place where vision is a challenge. There need to be accessibility options for larger, easier-to-read buttons and text.
Paula Kennedy, CMKBD, CLIPP, CACC, Owner of Timeless Kitchen Design LLC

I usually attend KBIS every year, because if you do not keep up with the trends, how do you offer your clients the latest and the greatest products in our industry? I look forward to seeing all the new and innovative products, especially the appliances, solid surfaces, cabinetry and plumbing components. The products we source are as much a part of our designs as the design aesthetic itself.
Teresa Scudero, Allied ASID, Owner of TDS Design Studio Inc.