A&D Building Wraps Market Day 2023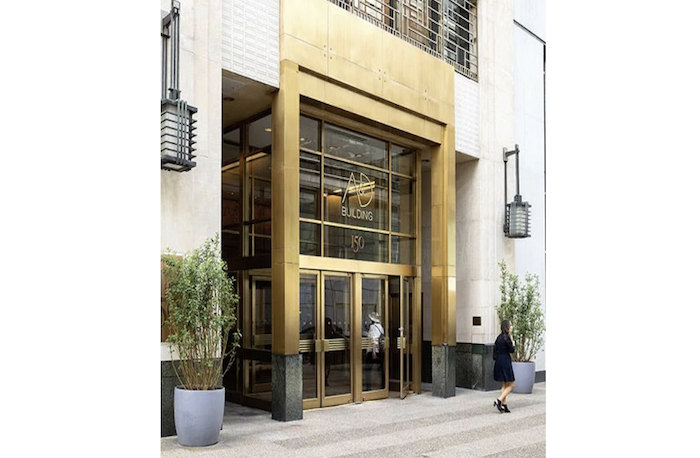 June 26, 2023
This article was originally published on June 26, 2023; it was updated June 30, 2023 and July 5, 2023.
The Architects & Designers Building – better known as the A&D Building – held its yearly Market Day on June 20. Design professionals and industry leaders shared their insights in a full roster of panel discussions, Q+A sessions and presentations on a wide range of issues of concern to the community. Showrooms opened their doors to introduce or preview new products. KBB was on the scene, and recaps the some of the programming highlights below.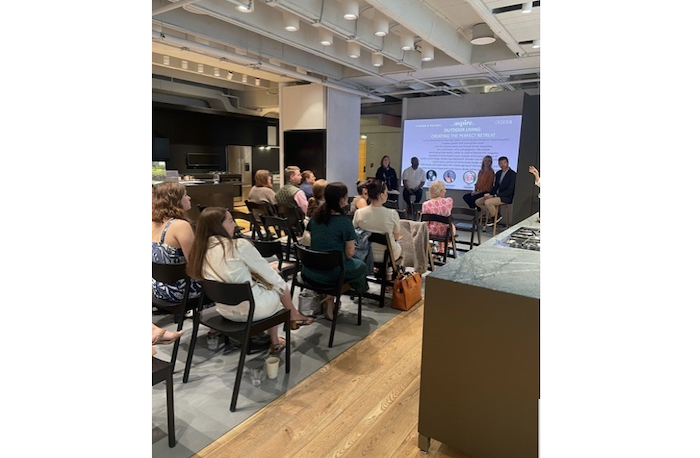 At the Fisher & Paykel/DCS Experience Center (above), Leyden Lewis, founder and creative director of Leyden Lewis Design Studio; Lisa Davenport, founder and CEO of LDD Interiors; and Justin Quinn, partner at James Doyle Design Associates discussed how top interior and landscape designers can collaborate on creating beautiful outdoor spaces that connect the inside with the natural world, and include all the necessities for a well-lived and well-designed life outside.
Dacor launched new and expanded offerings within its Transitional Collection and built-in refrigerator lineup. "In response to the growing market trend positioning beautiful design and meaningful innovation as luxury, Dacor's expanded Transitional Collection and new Built-In Refrigeration lineup advances this concept through new technologies and elevated, multifunctional features to amplify your kitchen's aesthetic and functionality," said Geraldine Morrison, executive director at Dacor. "The resulting 48-Inch Built-In Refrigerator and 48-Inch Transitional Range achieve a heightened level of technology and elegance at every touch point, set to inspire the design savvy luxury consumer for years to come."
In its new, two-story showroom – complete with a huge rooftop terrace! – Ferguson Bath, Kitchen and Lighting Gallery hosted an engaging conversation on how design professionals can be mindful of health and wellness in every aspect of the home now and into the future, from incorporating environmental regulations and codes to shaping spaces that can stand the test of time while fostering a healthy lifestyle. Speakers included Jessie Goldvarg, AIA, BarlisWedlick Architects; Celine Marcotte, global projects and business relations, GRAFF; and Robin LeBaron, president and co-founder, Pearl Certification.
The value of luxury kitchens was the topic at the Middleby Residential/Viking/La Cornue showroom, where Alexis Caldera, head of design, Development Marketing Team; Barbara S. Roth, AKBD, CAPS, CLIPP of PS Rossy Design; Stephanie Gaelick of Steph Gaelick Designs; and chef Jackie Rothong, Chopped Champion and Middleby Residential executive chef offered a variety of perspectives.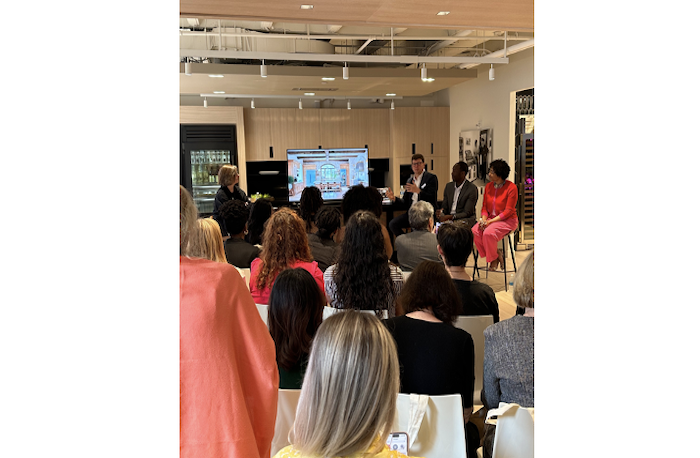 True Residential – which had just opened its showroom (above) a day before – was the setting for an enlightening exploration of innovative ways to transcend classic white and add vibrant color to interiors. The panel featured Courtney McLeod, founder and principal, Right Meets Left Interior Design; Joe Louis, manager, eggersman USA; and Andrew Shead, sales and marketing manager, True Residential.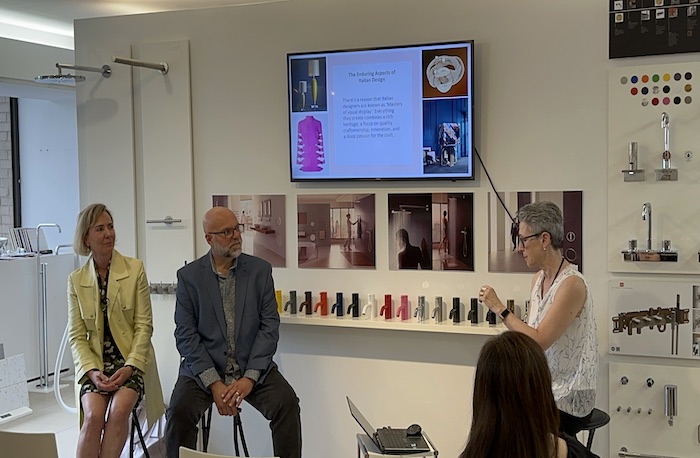 Bob Gifford, director, Hastings Tile & Bath and Felicitas Oefelein, principal, F.O. Design (above) had a lively chat in the Hastings showroom on the importance and influence of Italian design that covered trends, innovations in color, materials, and overall design. They also discussed how melding fashion and furnishings continues to resonate.
"The A&D Building was thrilled to host its second Market Day event and bring insightful and impactful programming for the trade to its showrooms," said Michael Rabatin, managing director of marketing for the property.
—By Leslie Clagett, KBB Managing Editor
Photos: A&D Building