Announcing the Winners of KBB's 2016 Design Awards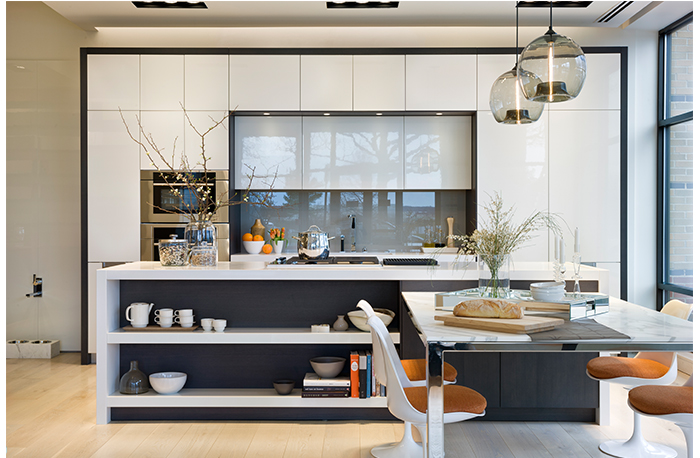 September 19, 2016
We at KBB are excited and honored to announce our 2016 Design Award winners! Out of 130+ submissions, our esteemed panel of judges chose the winning kitchen, bath and showroom projects based on such criteria as fulfilling clients' requirements; solving design challenges; and incorporating innovative thinking in the form of aesthetics, function, product usage and technology.
Click here for an expanded gallery of this year's winners
This year's trends included mixed materials, finishes and textures; bolder colors; clever storage solutions; floating fixtures; variety of design styles; customization for clients; no-see-um outlets; and everything from mega-showrooms to meaningful upgrades to smaller spaces.
This year's winners include:
KITCHENS
Kitchen of the Year
– Glass & Dangel, Tamie Glass, ASID, IIDA, RID
Second Place Kitchen
– LMK Interiors, Leslie Kalish
Third Place Kitchen
– TrueLeaf Kitchens, Jim Barna
Honorable Mention Kitchens
– Studio Bowerbird, Amanda LaRose
– Designs Anew Houston, Barb Mueller
BATHROOMS
Bathroom of the Year
– Next Project Studio, Dana King
Second Place Bathroom
– The Nielsen Collection of Interiors, Faye Nielsen
Third Place Bathroom
– Nar Fine Carpentry Inc., Nar Bustamante
Honorable Mention Bathrooms
– Spaciality Inc., Coco Kanakis
– Lori Carroll & Associates, Lori Carroll
SHOWROOMS
Showroom of the Year
– Studio Snaidero DC Metro, Shawna Dillon, ASID
Second Place Showroom
– Covenant Kitchens & Baths Inc., Gerard Ciccarello
Third Place Showroom
– Kohler Signature Store – Burlington, Supply New England, Sabrina DaLomba
Honorable Mention
– True Experience Showroom, True Refrigeration
This year's judges were also the cream of the crop and included four designers with various specialties from all over the country. Two of this year's judges included two of KBB's very own Editorial Advisory Board members.
Meet this year's judges!
Scott Corridan is the owner of Scott Corridan design with offices in Incline Village, Nev., and Saint Helena, Calif., and has designed interior and architectural spaces all over the world. He volunteers as a ski instructor with Northstar California Resort and Mammoth Mountain's Disabled Sports Eastern Sierra program and has dedicated time to Canine Companions for Independence.
Troy Pavelka is a design manager and award-winning architect with Normandy Design Build Remodeling in the Chicago area. He is well versed in environmentally sensitive construction and strives to integrate that knowledge into each of his projects. He recently completed an extensive renovation on his own vintage home, which provided him with the customers' perspective.
Brandy Souza is the general manager of Kitchen Views in New Bedford, Mass., and oversees all seven showrooms. As a designer, she loves working with materials that remind her of beach vacations, and she strives to design kitchens that meet the specific needs of her clients and bring their dream kitchens to life. She combines her technical expertise with a fine eye for design and a commitment to customer satisfaction.
Sheryl Steinberg, ALLIED ASID, LEED Green Associate, is the owner of Sheryl Steinberg Interior Design in Bethesda, Md. She has designed, managed and consulted an array of projects, including residential kitchens and baths and commercial office spaces. She has gained an appreciation for the unity of our natural environment with our built environment and often incorporates green design elements into her spaces.
Congratulations to this year's Design Award winners, and thank you to our esteemed panel of judges! Click here for more coverage of our 2016 Design Award winners in our September issue.