Armstrong Flooring Garners Good Housekeeping Award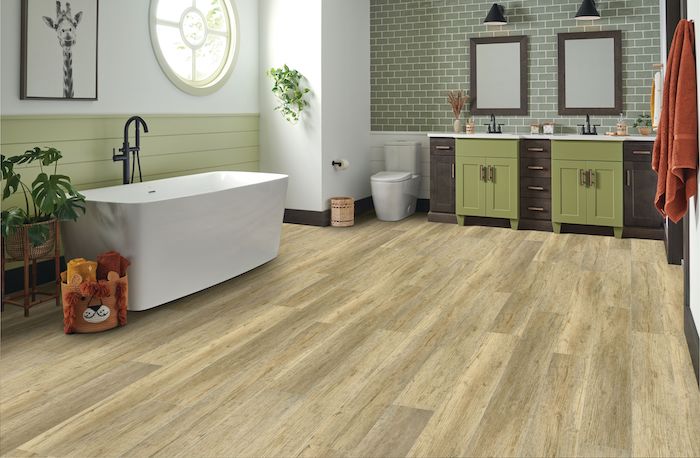 October 14, 2023
AHF Products, a leading manufacturer of hardsurface flooring, is proud to announce that Armstrong Flooring™ Lutea™ (above) was recognized in Good Housekeeping's 2023 Home Renovation Awards in the Kitchen & Bath All-Stars category. A full list of winners can be found on GoodHousekeeping.com.
"Armstrong Flooring, one of the first names in flooring, is honored to be recognized among the industry's leading home renovation products by the prestigious Good Housekeeping Institute," said Jennifer Zimmerman, chief commercial officer, AHF Products. "The Lutea collection strikes the perfect balance between beauty and performance. It features the visual essence of natural hardwood, but it's impervious to water, extremely durable and easy-to-care for."
Lutea is inspired by the design style Japandi, which blends pale, neutral tones from Scandinavia with darker, rich shades popular in Japan. The PARADISE and ZEN collections offer waterproof planks available in a range of wood looks – birch, hickory, oak and pine. PARADISE features a 20 mil wearlayer and 11 high-end designs/wide widths; ZEN is a 12 mil wearlayer floor with nine designs.
What makes Lutea by Armstrong Flooring different is its strong, solid core that provides incredible dent resistance. Combine that with some of the best warranties on the market and you have a floor that's made to last. Made with busy households in mind, Lutea stands up to spills, water, and everyday messes. Thanks to a high-performance coating, clean-up is a breeze. In addition to its reinforced core, Lutea features a highly protective finish making it extremely scratch resistant. This combination of dent and scratch resistance ensures the floor will stay beautiful for years to come.
Ideal for residential and multi-family use, Lutea is a great choice for three season rooms or for use in direct sunlight. Lutea's strength will stand up to the chaos of pets, kids, and the hustle and bustle of a busy home. PARADISE offers a lifetime limited warranty for residential use and a 10-year limited warranty for light commercial use; and ZEN offers a 35-year limited warranty for residential use. All feature an attached pad and easy locking install.
Photo credit: Armstrong Flooring