Bobby Berk Named Sunday Keynote Speaker for Fall High Point Market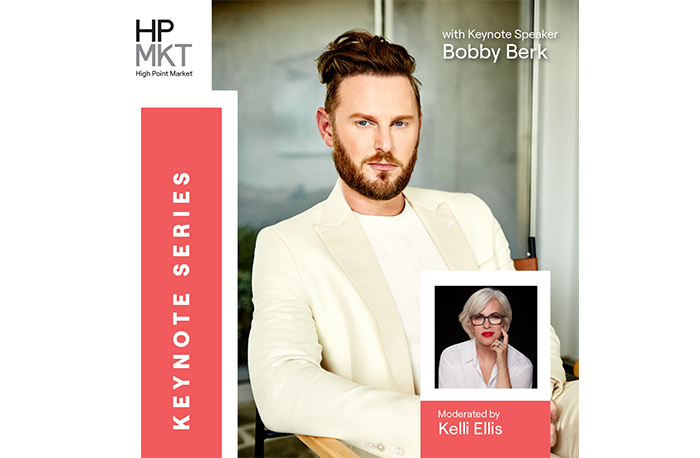 September 1, 2023
The High Point Market Authority (HPMA) has named Bobby Berk, interior designer, Emmy-nominated host of "Queer Eye" and author, as speaker for its Sunday Keynote event at Fall Market, taking place in the High Point Theatre on Oct. 15, from 3 to 4 p.m. 
Moderated by the celebrity interior designer and design psychology expert Kelli Ellis, the presentation will include discussion about Berk's new book "Right at Home" and the intersection of design and mental health. Berk will share why he chose to write a book dedicated to how good design is good for the mind, the connection between living spaces and self care, and how to use design to better our lives—a mantra he has lived by and continues to focus on in his design work. Berk and Ellis will also open up about their own design careers, what obstacles they have overcome and why interior design is so essential. 
To celebrate the publication of the designer's first solo book, set to be officially released on Sept. 12, 400 complimentary signed hardcover copies of "Right at Home" will be available for Sunday Keynote event guests on a first-come, first-served basis.  
"Bobby Berk has been a long-standing voice at High Point Market, and we're delighted to welcome him back in October as Sunday's speaker for our popular Keynote Series," said Tammy Nagem, HPMA president and CEO. "Market attendees won't want to miss out on this insightful conversation and unique educational opportunity."  
The Sunday Keynote event is open to all registered High Point Market attendees and is sponsored by Karastan Rugs. Doors open at 2:30 p.m. Following the event, a cocktail hour with Berk will be hosted at the Karastan Rugs showroom for Keynote attendees. Additional keynote event details may be found online at www.highpointmarket.org/keynoteseries.