Brown Jordan Outdoor Kitchens Wins IFDA Best in Show Award
---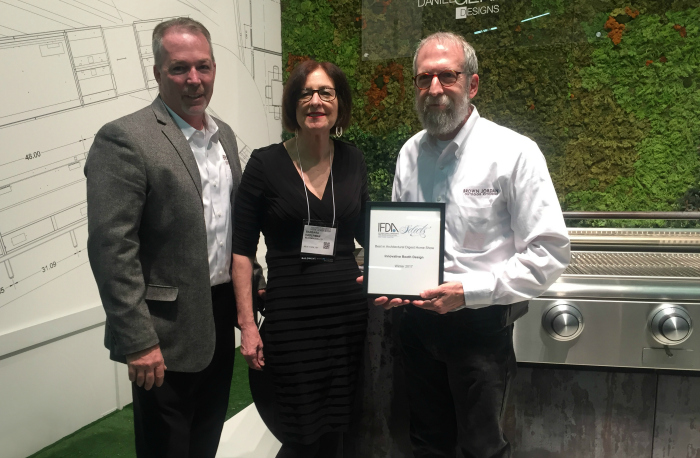 April 20, 2017
Brown Jordan Outdoor Kitchens has been honored by the International Furnishings and Design Association (IFDA) with a Best In Show award for Innovative Booth Design at the 2017 Architectural Digest Design Show recently held in New York City. The company earned "Best Kitchen" honors in 2016, making this the second year in a row it has received a Best In Show designation.
The IFDA recognized Brown Jordan Outdoor Kitchens for its distinctive booth layout featuring ASA-D2, a contemporary modular outdoor kitchen developed in collaboration with Cosentino and architect and designer Daniel Germani, who also designed the booth.
"The ASA-D2 is not only fresh and modern, but also highly functional and durable," said Mitch Slater, president of Danver Stainless Outdoor Kitchens, exclusive licensee of Brown Jordan Outdoor Kitchens. "Daniel Germani's eye-catching booth design highlighted ASA-D2's unique beauty and versatility in a simple, yet highly memorable way that truly resonated with booth visitors. We are excited that the IFDA, and a highly regarded panel of industry experts, selected the Brown Jordan Outdoor Kitchens booth for this important award."
Conceptualized by Germani, ASA-D2 is constructed of ultra durable materials designed to withstand the elements, including Dekton by Cosentino countertops and Brown Jordan Outdoor Kitchens stainless steel cabinetry. Consumers can select from four cabinetry finishes, which have been matched to the Dekton countertops using Brown Jordan Outdoor Kitchens' innovative powder coat process for a truly seamless look.
The booth design featured the freestanding ASA-D2 in the Trilium finish – reminiscent of aged and oxidized steel – framed by side walls adorned with over-scaled architectural blueprints and a back wall covered with plush greenery. The greenery element brought the outdoors in while also reflecting Brown Jordan Outdoor Kitchens' commitment to sustainable design.