CE Pro All-Star Band Returns to Stage at CEDIA Expo 2023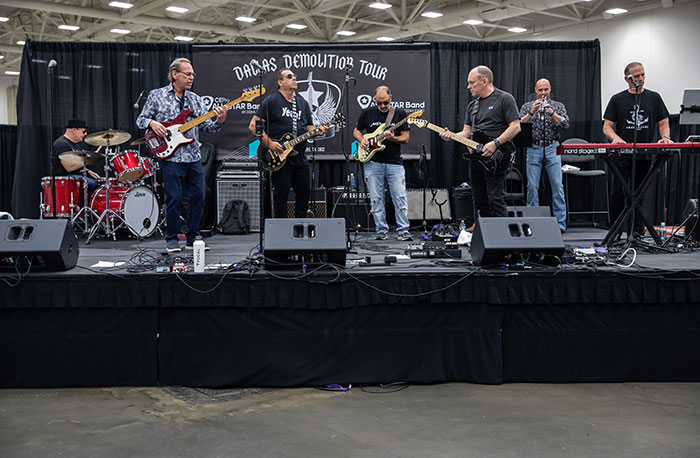 July 3, 2023
CEDIA Expo, the platform where residential technology integration, design and construction professionals connect, learn and engage, announces the return of the CE Pro All-Star Band. The highly-anticipated CE Pro All-Star Band will kick off after the conclusion of the CE Pro Best Project Awards on Thursday, Sept. 7, 2023.  
The CE Pro All-Star Band will unite some of the most talented professionals in the custom electronics industry for a 90-minute live music showcase. Covering music from a range of decades, the CE Pro All-Star Band will perform tunes from Cake, Kid Rock, Tom Petty and the Heartbreakers, Foo Fighters, Georgia Satellites, Stevie Wonder, Prince, Billy Joel and others. This year's band includes:  
Bob Archer from CE Pro – Guitar 

Tim Bigoness from D-Tools – Drums and lead vocals

Richard Charschan from AcousticSmart – Guitar 

Jim Garrett from Harman International – Drums 

Steve Haas from SH Acoustics – Keyboards 

Bret Jacob from Nice – Trumpet 

Mitch Klein from Z-Wave Alliance – Bass

Vince Luciani from Apex Technologies – Guitar 

Jason McGraw from CEDIA Expo and KBIS – Guitar

Rick Santiago from Indy Audio Labs – Saxophone

Patrick Shaughnessy from Focal Naim America – Guitar and lead vocals

David Silkin from Digital Sales Group Metro and DSG Distributors – Bass
Featuring manufacturer's reps, manufacturers, integrators and even CE Pro staff members, the the band includes professionals who have spent years in the industry. The band provides industry professionals with a fun, engaging opportunity to share their talents at one of CEDIA Expo's most anticipated events. Their performance is an exciting opportunity for the industry to gather, network and celebrate over a collective love of music. 
"I want to thank Brian Pagel, Jason McGraw and the rest of the Emerald team for the opportunity to play CEDIA Expo 2023 with a very talented group of industry professionals," said Bob Archer, senior editor CE Pro magazine. "I also want to thank the guys in the band for giving their time to learning a diverse setlist that we think will provide a lot of live music entertainment for expo attendees." 
The CE Pro All-Star Band will hit the Smart Stage following the CE Pro Best Project Awards ceremony, which begins at 4 p.m. As in previous years, the concert is interactive. Attendees will be invited to sing, dance and even join the band on stage.
Individuals interested in attending CEDIA Expo Sept. 6–9, 2023, in Denver can register online. CEDIA Expo 2023  will be co-located with Commercial Integrator Expo.