Ceramics of Italy Brands Bring Ceramic Designs and Tile Technologies to Coverings 2017
---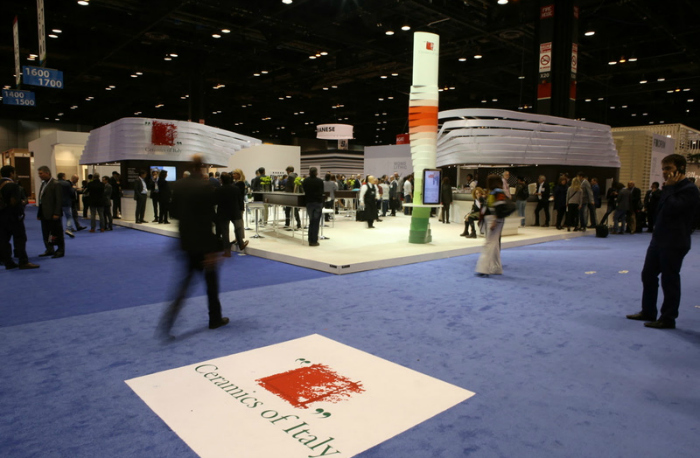 March 6, 2017
From April 4-7, 2017, Ceramics of Italy will bring one of the largest international contingents to Orlando for the 28th edition of Coverings – the largest tile and stone exhibition in North America. Organized by Confindustria Ceramica (the Italian Association of Ceramics) with support from the Italian Ministry of Economic Development, the Ceramics of Italy pavilion will feature 76 booths and more than 100 brands introducing the latest designs and technical innovations in tile and installation products. Returning for a second year, the Ceramics of Italy central stand, Strada Dinamica, serves as an industry information hub and authentic Italian cafe.
Ceramics of Italy Pavilion
Strada Dinamica, the central booth and heart of the Italian ceramics industry at Coverings (booth 1222) is designed by the New York architecture and design firm e+i studio. Italian for "dynamic street" the space is modeled after a lively streetscape with landscaped benches, standing communal tables and two kiosks housing a cafe, coffee bar and information desk. The space will host lunch with authentic Italian pasta served daily by Ceramics of Italy's long-running culinary partner, Sputino Catering. Nearly all of the surfaces are clad in Italian tile, from the thin, large porcelain slabs from Florim's Magnum Oversize collection covering the benches, tables and countertops to the thick, large-format floor tiles from Lea Ceramiche that are set on a raised flooring system by Newfloor.
Surrounding the Ceramics of Italy space, Italian manufacturers will showcase the latest design concepts and technical advancements in tile and adhesives in the Ceramics of Italy pavilion. From artisanal ceramics, high-end mosaics and ceramic-porcelain hybrids to oversized porcelain slabs, antibacterial grouts and easy laying floor systems, hundreds of products will be shown. This year, textured textile and wood-look designs, matte blacks and deep blue hues, 3D and large-format tiles and rustic styles invigorated with a modern touch are expected to dominate the show floor.
Launching in the U.S. market at Coverings, Ceramics of Italy announces the "Italians Make the Difference" ad campaign. The campaign emphasizes the dedicated and passionate people who work to ensure the quality of Italian ceramics. Coverings attendees are invited to take their picture in the Ceramics of Italy photo booth located between Fincibec (booth 2117) and Energie Ker (booth 2112).
Installation Design Showcase "Tiny Home Edition"
For the eighth consecutive year, Ceramics of Italy will participate in the Coverings Installation Design Showcase, an initiative that allows the association to highlight the vast and extensive uses of Italian ceramics in tandem with creative design and expert installation. This year for the first time, Coverings partnered with Orlando Lakefront – a tiny home and RV community in College Park, Florida – to create small spaces that will be moved to the tiny home community at the show's conclusion.
Ceramics of Italy's display is designed by tiny home expert Kim Lewis (formerly a designer on ABC's "Extreme Makeover: Home Edition" and FYI's "Tiny House Nation"), who has developed a modern retro bungalow concept titled "Palm Springs." Ceramics of Italy products will bring the concept to life with colorful, three-dimensional and marble-look tiles by Atlas Concorde and tiles with naturalistic motifs from Gruppo Ricchetti brands (Cisa and Cerdisa) that will be installed in the space in real-time. Visitors will be able to observe the step-by-step construction by the NTCA Five Star team of contractors from Visalia Ceramic Tile through a spacious double front door that will open out to a deck, bringing the display to life throughout the show. All installation materials have been generously donated by Coverings sponsor USG and sustainable grout has been provided by Mapei. At the IDS Reveal and Reception (Thursday, April 6 at 3 p.m.), the Installation Design Showcase team will present the project and invite attendees to explore the space and ask questions. You can visit Ceramics of Italy's IDS display throughout the duration of the show at booth 458 A.
Events
Ceramics of Italy will host a special Coverings VIP Tour, offerings specifiers an insider's look at the Italian ceramic tile industry. On Tuesday, April 4 and Thursday, April 6 from 1 – 3 p.m., registered industry professionals will be treated to an authentic Italian lunch, a special goodie bag and a trend presentation in room S310A, followed by a guided walking tour of the Ceramics of Italy Pavilion. Interested industry professionals can register at bit.ly/coveringsvip. They will also be entered into a drawing to win a trip to Bologna, Italy to attend Cersaie – the world's largest exhibition of ceramic tile and bathroom furnishings.