CNC Cabinetry South Carolina Facility Grand Opening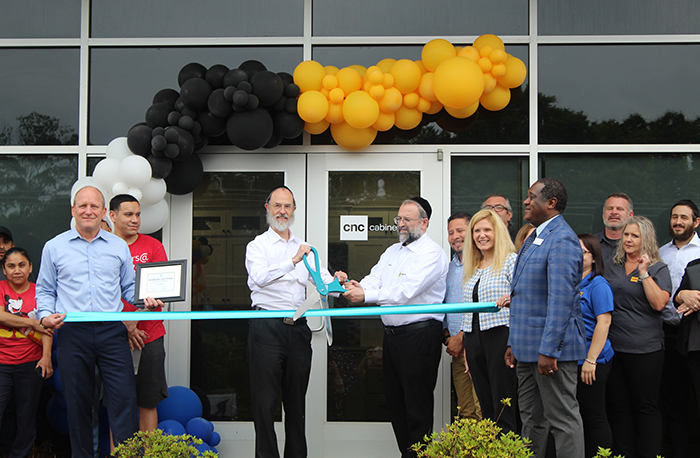 May 30, 2023
CNC Cabinetry, a manufacturer and distributor of high-quality cabinetry, celebrated the grand opening of its new South Carolina facility, with a warm and welcoming customer lunch event. The occasion marked a significant milestone in the company's commitment to serving the local community and surrounding states, and fostering meaningful connections with its valued customers. 
The event commenced with a great networking session, allowing guests to engage and connect with the CNC Cabinetry team while exploring the beautifully designed showroom. The new facility in Spartanburg serves as a testament to the company's dedication to delivering exceptional cabinetry products that enhance the homes and lives of its customers. 
Robert Hunter, the chief operating officer of CNC Cabinetry, opened the event with remarks, expressing sincere appreciation for the opportunity to serve the Spartanburg community. Hunter acknowledged the collaborative effort and unwavering support that went into establishing the facility, emphasizing the team's commitment to ensuring the highest level of craftsmanship, quality and service for its customers. 
Following the opening remarks, Christiam Montalvo, the operations manager, provided guests with an insightful tour of the facility. Montalvo highlighted the meticulous attention to detail and care that goes into every aspect of the production process, underscoring the company's dedication to delivering outstanding cabinetry solutions that exceed customer expectations. 
As a token of gratitude, CNC Cabinetry treated guests to a BBQ feast provided by a local food truck. The locally sourced flavors added a touch of community spirit to the event, creating a warm and inviting atmosphere that fostered connections among attendees. 
Later in the day, members of the Spartanburg Chamber of Commerce joined the team for a special ribbon-cutting ceremony, symbolizing the company's commitment to becoming an integral part of the Spartanburg community. 
"We are thrilled to celebrate the grand opening of our new Spartanburg facility," said Nathan Indig, CEO of CNC Cabinetry. "We could not have asked for a better place to be in. Our mission has always been to make quality kitchen and bath cabinets more accessible to all, and this facility is another stepping stone to accomplishing this goal. We are grateful for the trust and support we have received and look forward to deepening our connection with the community." 
The grand opening and customer lunch event showcased CNC Cabinetry's dedication to the Spartanburg community and the mid-Atlantic states, highlighting the importance of building meaningful relationships and delivering exceptional cabinetry solutions in the shortest lead time, tailored to the unique needs of its customers.
Editor's Note: Original article published on May 30 and was updated on June 6 and June 21.