Cosentino Group Opens in Miami
---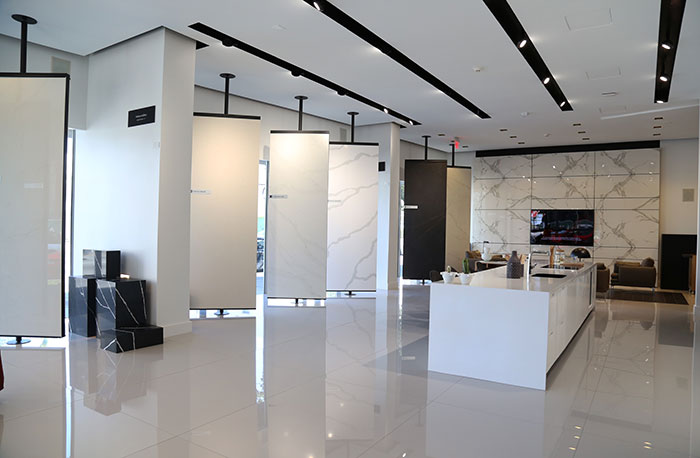 May 29, 2018
Cosentino has announced the opening of its Cosentino City Miami Center. One of only of three in the United States and one of 11 globally, the 3,200-sq.-ft. space offers a high-tech, immersive experience to best serve design professionals and consumers alike in Miami's burgeoning design scene.
Created specifically for the world's top metropolitan cities, the "Cosentino City" concept utilizes the latest in digital technology where architects, designers and homeowners can fully experience the expansive offering of Cosentino products, such as ultra-compact Dekton and Silestone, the global leader in natural quartz surfacing. The City Centers aim to promote a collaborative and inspiring environment where designers and their clients can discuss ideas, products and designs in an open, modern space, reflective of Cosentino's signature style.
"Since moving our the Cosentino Americas headquarters to Miami last year, we've been looking forward to further expanding our presence in Miami, a city with one of the most influential architecture and design communities in North America," said Eduardo Martinez-Cosentino, CEO of Cosentino North America and EVP Global Sales, Cosentino Group."With the new Cosentino Miami City Center, we'll ensure the city's preeminent architects and designers have access in a convenient location to our latest products and expertise that underscores our firm commitment to Miami and South Florida, as well as South and Central America."
The $1.4 million dollar showroom includes stunning exhibitions of Cosentino's latest introductions, work areas for design professionals, and the Cosentino Selection Center. Using the latest technology, design professionals and consumers can not only instantly view detailed, high-definition images of slabs in great detail but create lifelike renderings to envision how different Cosentino materials will appear in different residential and commercial settings and various applications.
The Miami City Center will also be the first Cosentino building of its kind to have a façade clad in Dekton Trilium and Domoos. Part of the facade will also serve as a canvas for graffiti or other types of street art, akin to Miami's famous Wynwood Walls. The facility builds on the foundation of the company's Miami presence, which became the headquarters of Cosentino Americas in 2017.