Cosentino Group's Annual Conference Welcomes Partners and Professional Associations
---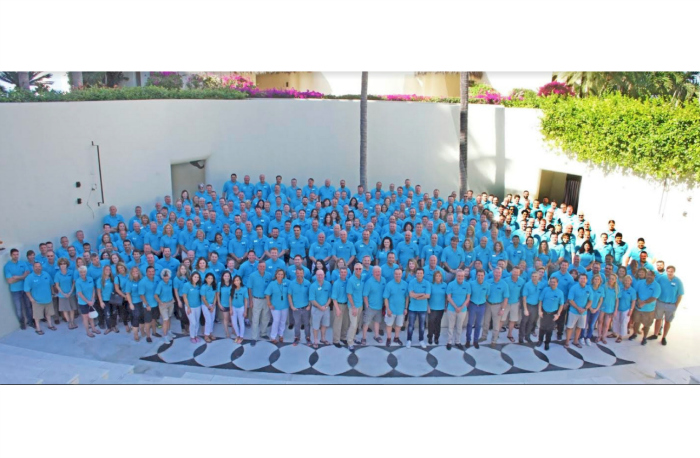 February 9, 2017
Cosentino Group, the Spain-based manufacturer of surfaces for architecture and design, held its annual Cosentino 100 convention in Puerto Vallarta, Mexico for its leading partners and customers across North America. This year's event marked Cosentino's biggest Cosentino 100 yet, drawing 340 attendees representing 126 fabricators and Cosentino customers from the U.S. and Canada.
Also in attendance were representatives from the top professional associations, such as the American Society of Interior Design (ASID), the Marble Institute of America (MIA), the National Association of the Remodeling Industry (NARI), the National Kitchen and Bath Association (NKBA) and the National Association of Home Constructors (NAHC). Each association conducted seminars during the convention, discussing upcoming initiatives and presenting the very latest market studies. Fourteen machinery and tools suppliers for the stone sector also presented their latest innovations.
This year's Cosentino 100 theme was "Breakthrough," an initiative challenging conference attendees to go further than ever before. In addition to presenting the main strategies for Cosentino in 2017, the conference also served as the perfect platform to showcase the brand's latest product innovations – such as the Silestone Eternal Collection and new colors for Dekton – and celebrate Cosentino as the 2016 recipient of Home Depot's Supplier of the Year Award. The first day of Cosentino 100 also included a presentation of Silestone's new advertising campaign, "Tops on Top," endorsed by American supermodel and entrepreneur Cindy Crawford.
On behalf of the company, Francisco Martinez-Cosentino, Cosentino Group's president, thanked all attendees for contributing to the year-over-year growth of Cosentino in North America.
"We are committed to differentiation as a competitive strategy—differentiation in the quality and innovation of our products," he said. "This year we are introducing major new developments for Silestone, such as the Eternal Series, an award winner at the IDS Fair in Toronto, N-Boost Technology and the Suede finish, which will give our brand great potential to continue increasing sales."