Cosentino and Tennis Star Rafael Nadal Co-Host Fall Collection Preview
---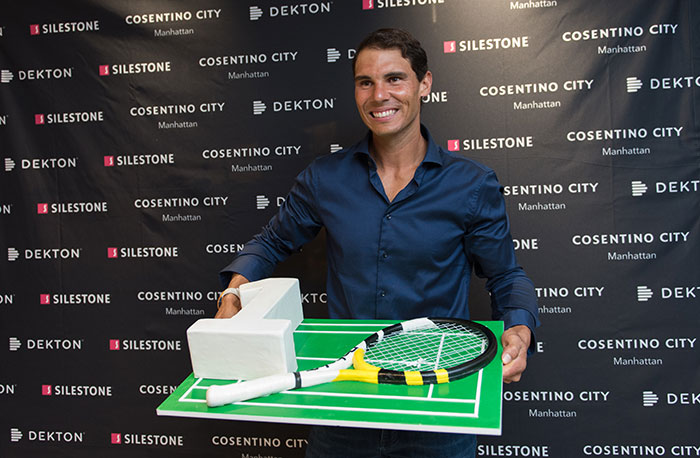 August 23, 2017
On Tuesday evening in New York city after appearances at the Masters 1000 in Montreal and Cincinnati and just days ahead of the U.S. Open, the world's number-one ranked tennis star and Dekton spokesperson Rafael Nadal made an appearance at an exclusive cocktail event at the Cosentino Manhattan City Center to help unveil a new collection, the Dekton Industrial Series. Designed in collaboration with leading architect and designer Daniel Germani, the mold-breaking range of Dekton color will officially launch in September 2017.
Nadal celebrated the preview alongside 100 of New York's leading architects and designers, who enjoyed welcoming remarks from the tennis phenom, a meet-and-greet, cocktails and more. To commemorate the evening, Nadal signed one of the newly unveiled slabs, which will remain on permanent display in the showroom.
Known throughout the tennis world as "The King of Clay," Nadal has been the brand ambassador for Dekton since 2014 and knows firsthand the importance of surface both in sport and design. His Rafa Nadal Academy by Movistar, a world-class training facility sponsored by Cosentino opened last fall in his hometown of Manacor, Spain and boasts more than 430,000 square feet inside and out of Dekton, an ultra-compact, ultra-durable architectural surface manufactured by the Spain-based company.