Deadline for 2018 Ceramics of Italy Tile Competition Extended to Feb. 23
---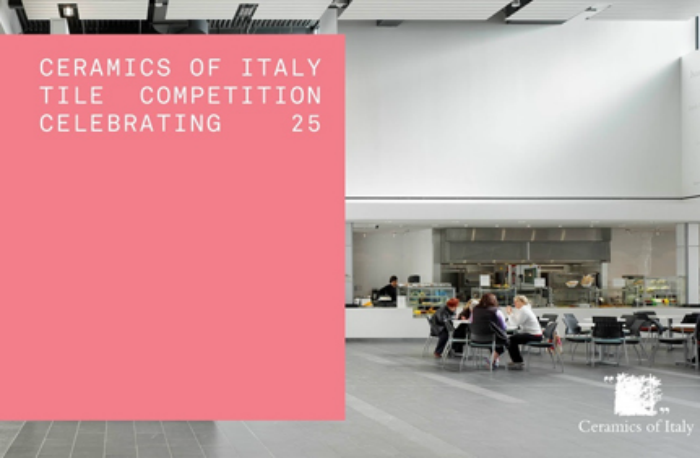 February 15, 2018
The 2018 Ceramics of Italy Tile Competition entry deadline has been extended to Feb. 23, 2018. Celebrating its 25th year, the Tile Competition is launching a number of new initiatives, including a redesigned website, ahead of the Coverings show in Atlanta. All North America-based architects and designers who have used Italian ceramic or porcelain tile within the past five years are eligible to submit their projects in the residential, commercial and institutional categories. A new category for imaginative student renderings was also introduced this year, inviting young architects and designers to submit their designs incorporating Italian tile from Ceramics of Italy member companies.

Prizes for built categories include a $3,000 cash prize, a dedicated advertisement in a leading design publication, a trip to Coverings to present the project in Atlanta, as well as a CEU trip to Cersaie with a delegation of architects, designers and design media. Students are eligible to win a trip to Coverings to present their design at the show in May.
Both international and domestic projects of all scales and styles will be equally considered. To be eligible to submit to the student category, entrants must be enrolled at an accredited university in North America. Individual or group submissions are accepted through renderings, floor plans and sketches. For all categories, the competition welcomes any type of project within the residential, institutional and commercial realm – from multi-family housing to hospitality projects to outdoor spaces and façades. The jury's official criteria includes: overall design of the project, aesthetic and technical quality of tile installation, degree to which the tile enhances the setting and the project's sustainable attributes.
The competition guidelines, online application and an archive of beautiful winning projects from past years can be found on the Ceramics of Italy Tile Competition website, www.tilecompetition.com. There is no fee to enter and multiple submissions are accepted.