Deadline Extended to Submit for the 2023 KBB Product Awards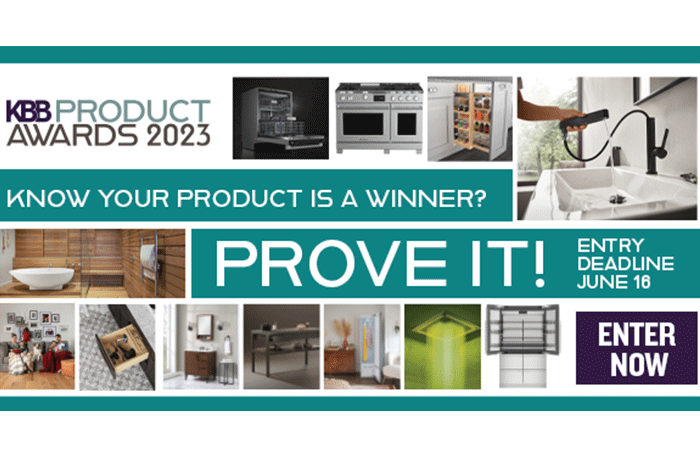 June 16, 2023
We are accepting submissions for the 2023 KBB Product Awards, but time is running out. We have extended the deadline to June 23 at 5pm ET to submit your best products, and winners will be announced in the September/October issue of KBB and in an online feature.
Click HERE to submit!
The 2023 KBB Product Awards honor manufacturers for superior products that fulfill the following criteria: meeting market need, technological advancement, aesthetic merit and innovation. If you are a manufacturer that has unveiled a new kitchen or bath product in the last 12 months that has not been previously entered, you're eligible to enter this independently judged awards program.
This. year's judges include:
Ariana Afshar Lovato, owner and principal designer at Arroyo Grande, Calif.-based Honeycomb Home Design
Rosario Mannino, owner and principal architect of RS Mannino Architects + Builders and Mannino Cabinetry, New York and New Jersey
James Saisakorn, RA, Turett Collaborative, Tribeca, N.Y.
Sharon Sherman, founder of Thyme & Place Design, Wyckoff, N.J.
In addition to the Kitchen and Bath Products of the Year awards, we expect additional product-specific awards in the following categories:*
– Air Quality
– Bath and Kitchen Accessories
– Bath and Kitchen Faucets
– Bath and Kitchen Sinks
– Bath Storage and Furniture
– Cooking Appliances
– Countertops
– Decorative Hardware
– Dishwashers
– Flooring and Flooring Components
– Functional and Storage Hardware
– Kitchen Cabinetry
– Laundry Products
– Lighting
– Outdoor Offerings
– Refrigeration
– Shower Components
– Smart Innovations
– Toilets
– Tubs
*The judges have the final say on the category awards and will reserve the right to assign products to specific award categories at their discretion. One winner will be named in each category, and certain categories may not be awarded due to limited or insufficient entries. Decisions by judges are final.
View the 2022 Product Award Winners Here!