Diversity in Design Scholarship Recipients Announced by Thermador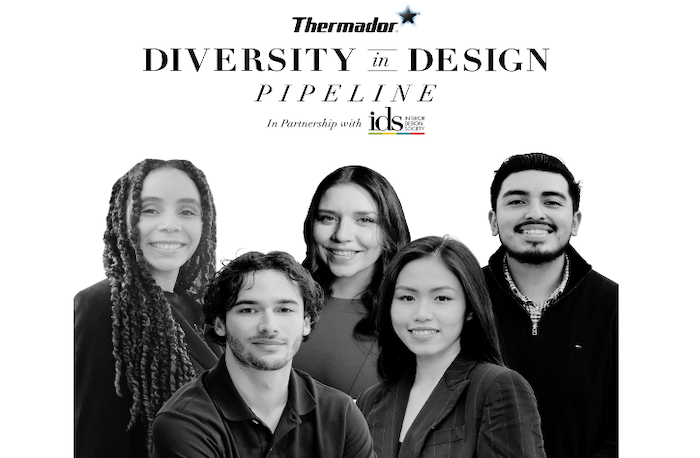 October 23, 2023
Thermador, the American luxury home appliance brand, announces the five 2023 student scholarship recipients of its third-annual Diversity in Design Pipeline initiative, in partnership with the Interior Design Society (IDS). The initiative strives to foster an inclusive and instructional environment within the interior design sector by supporting students with diverse perspectives through a nationwide design scholarship and mentoring program. With this new class of recipients, Thermador has now provided a total of 15 design students with access to key industry experts and opportunities since launching the program in 2021.
Speaking to KBB, Beatriz Sandoval, head of brand marketing for Thermador said, "In this annual initiative, we embrace a rich tapestry of unique perspectives, backgrounds, and talents to strive to ensure that opportunities in the design industry are broadly accessible. "Our commitment is to empower the diverse voices of the design world and forge a future where these new design innovators can thrive in this industry."
Final-year college students from around the country applied to join this program that helps propel interior design students with diverse perspectives into the highly competitive design industry. The group of winners will receive a tailored, year-long mentorship program with highly acclaimed subject matter interior design professionals, and $10,000 to go towards tuition.
Applicants shared personal stories about their decision to pursue this career path and how they could bring a unique perspective to the design industry. This year's winners of design scholarships, who are entering their senior year of college, include Ibrahim Al-Mohanna (Indiana University), Yasmin Boone (Northern Arizona University), Isai De La Barrera (The University of North Carolina at Greensboro), My (Amy) Grumbling (Russell Sage College), and Madison Svoboda (Kansas State University).
"Heading into the third year of our partnership with Thermador, the momentum for this first-of-its-kind initiative has never been stronger," said Jenny Cano, Executive Director for IDS. "We're excited to see this new class flourish and take the learnings from this year-long opportunity into their future careers, transforming the design industry for the better."
In addition to professional mentorship and scholarship money, winners have access to several exclusive programs and learning opportunities throughout the year, including:
• Program-exclusive panel discussions, product training and events
• Interior Design Society (IDS) membership and other design industry perks
• Career resources and support
• Access to exclusive trade events
The panel of judges for this year's design scholarship competition included House Beautiful director of editorial special projects Carisha Swanson, HGTV design star Alum Justin Q. Williams, international designer Tyler Wisler, David Charette, founding principal of Britto Charette, and award-winning Brazilian interior designer Juliana Oliveira.
The roster of mentors, chosen for their expertise and contributions to the design industry, include Bolkar Acikkol, PhD(c), AIA, LEED AP and senior project architect at Johnston LLC; Jessica Bantom, diversity, equity, inclusion, and belonging (DEIB) & interior design consultant; Brenda Geler, founder and creative director at Casa Blanca Studio; Ellen Lopez, founder and creative director at EL Design Studio and Certified Master and Kitchen Bath Designer; Lisa Mende, founder and creative director at Lisa Mende Design.
"The future of the design industry relies on the talents of students who aspire to transcend what's come before them. We are thrilled to be able to play a role in their quest to launch their design careers," said Sandoval. "We welcome each of the selected students, and we are proud to help them make an impact and be part of their design journey."
Past winners of the Diversity in Design Pipeline Initiative have gone on to earn various degrees in the design and architecture fields and earn NCIDQ design certification and other relevant certificates. For more information on the program, explore the Diversity in Design Pipeline Initiative on the Thermador website.
—By Leslie Clagett, KBB managing editor
Photo credit: Courtesy Thermador