FEI Group Annual Conference Wrap-Up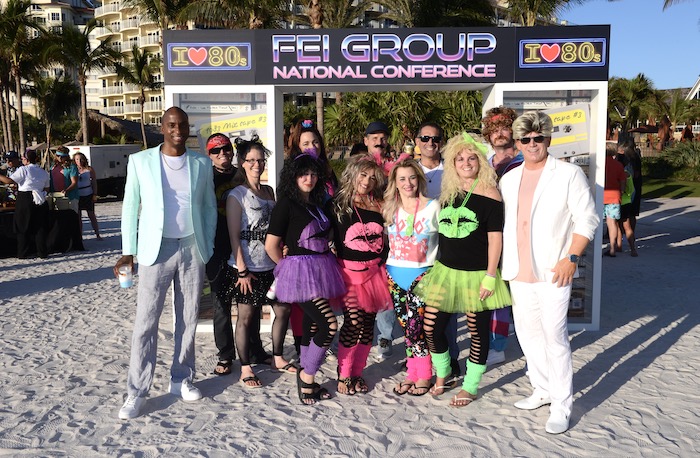 February 19, 2023
FEI Group, parent company to KBx and K&B Alliance, hosted its 24th National Conference at the end of 2022. Arguably the most important personal and business affair on the company's calendar each year, the FEI Group annual conference was once again historical by most measures. Nearly 800 attendees made the trip to Marco Island, the largest of Florida's Ten Thousand Islands, located on the Gulf of Mexico in southwest Florida.
Day One Events
In typical FEI Group style, the first day of the event was one for the books. Keynote speaker Jon Dorenbos, NFL legend and magician, kicked things off with an emotional, inspiring message using his own life story as an example to be considered by all: "Life is magic, and we can all be better, do better and take care of one another."
Following Dorenbos' moving performance, CEO Andy Hogan announced FEI's recent partnership with No Child Hungry and the group's commitment to give back in a big way. No Child Hungry was established in 2013 and works with corporate and community-based groups to pack nutritious meals and deliver them to people in need. FEI conference attendees went on to pack 52k meals for the organization in just two hours.
Day One Events
The second day continued to deliver on the event's theme, Positive Disruption, by introducing keynote speaker Jimmy Blackmon, retired U.S. Army soldier, author and leadership consultant. Blackmon encouraged the FEI community to train, trust and empower. From there, a powerful group of industry thought leaders and experts covered today's most pressing topics in a breakout format – incorporating technology into the measure and design process, mitigating the risks of material price volatility as it relates to supply chain disruption, winning the talent war, the importance of embracing uncertainty and maintaining agility when it comes to leadership and much more.
Brian Penabad, president of KBx and K&B Alliance, explained that an event of this scale isn't possible without the support of key supply partnerships. "We have invaluable relationships with partners such as MasterBrand/Norcraft, Daltile, Wellborn, Richelieu, Sauder Building Products, Cosentino and so many more" he said. "We are indebted to them for their support and enthusiasm in helping us make the kitchen and bath industry a better place to do business."
In June 2022, FEI Group announced it had formed a strategic partnership with Nationwide Marketing Group, the independent channel's largest and most trusted buying, marketing and business support organization, supporting more than 5,000 independently owned businesses across North America. FEI made sure to incorporate aspects of its new partnership throughout the event, reminding the membership that they now have an expanded slate of resources, tools and values to help them better compete and succeed in a rapidly changing environment.
Says Sam Rochat, president of FEI supply partner CafeCountertops, said, "I was referred to FEI by a longtime client of mine who had recently become an K&B Alliance member. I quickly realized the effort on behalf of the executive management team, the level of professionalism and the sheer buying power of the members vastly exceeded my expectations. If this is a business group you're considering for membership, have a closer look. I guarantee you'll be impressed."
Following two days of learning and education, guests attended an epic 80s-themed beach party and threw it back to an era when big hair and music legends ruled the day. The pictures are priceless.
K&B Alliance member Rick Glickman, owner of Dream Kitchens in Chicago, Ill., said, "Like I do every year, I went home motivated, recharged and yearning for more of the extraordinary camaraderie we've built as a group. More importantly, I left with memories to last a lifetime."
To learn more about FEI Group, KBx or K&B Alliance, click here.