Getting Social at KBIS
---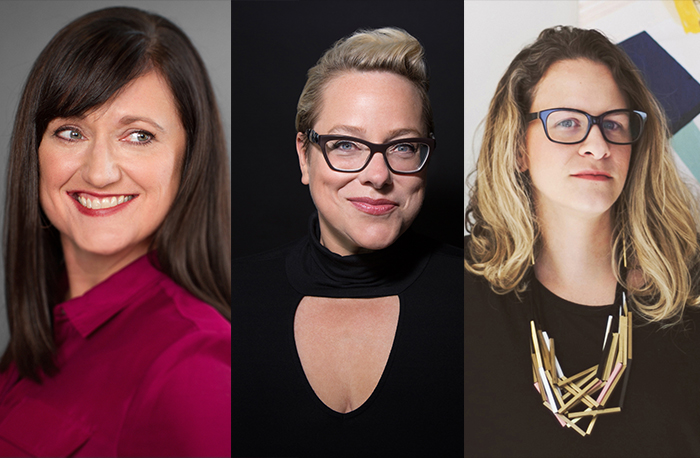 January 16, 2017
From left to right: Leanne Wood of Flying Camel Advertising, Veronika Miller of Modenus and Jaime Derringer of Design-Milk.com
Everyone – from exhibitor to media to attendee – was immersed in the Kitchen and Bath Industry Show (KBIS) when they took part in all the social media activity. Multiple platforms and outreach strategies brought attendees to booths and products to the eye of the consumer. No one can deny that social media has made this show even more vital for the industry – allowing everyone to connect, interact and network no matter the time or place.
On the last day of KBIS, Leanne Wood, principal of Flying Camel Advertising, Design + PR and head of the KBIS Social Media team, led a roundtable discussion with various brands to find out what worked for everyone at this year's show. Veronika Miller, founder and editor-in-chief of Modenus.com, and social media star Jaime Derringer joined her for the discussion.
Leanne Wood: What strategies worked for you at this year's show?

– Snapchat. The KBIS social media team did a Snapchat takeover with two designers. These individuals covered both products and events at the show and gave followers an attendee perspective.
-Facebook Live. For important events and speakers, using Facebook Live drove traffic to brands' sites. American Standard in particular featured comedian and television host Howie Mandel as the spokesperson for its ActiClean self-cleaning toilet. Mandel spoke on two Facebook Live videos for the brand, and together the videos garnered more than 5,000 views in 24 hours.
– Instagram Stories. With Instagram Stories, brands shared an unlimited amount of posts throughout the day – with creative touches like added text or sketches. The photos and videos disappear after 24 hours and won't appear on the profile grid or in the feed, making sure that old posts are not covering up your fresh content.
–Influencers of Instagram. Instagram takeovers – particularly with designers – gave followers a look through the eyes of the attendee.
LW: What strategies do you NOT recommend?

-Giving it all away. Show people what you have, but leave some to the imagination. That way attendees still have a reason to go to the brand's booth and to KBIS.
-Only posting your product. Followers don't want to see the same thing over and over again. Instead, show people how the product can be used in different settings or styles. Build on the product with everything that surrounds it as well. According to Derringer, one example for a refrigerator product would be to host a dinner party using that refrigerator. Photos from that event will drive attention to the brand and the product as well.
-Assume that social media is not important. Social media is not just about attracting millennials. Eventually the younger generations will be the primary consumers, so catering to them and what's next is essential.
-Not having a strategy. Understand your audience and give them what they want to see. This also involves drawing specific lines between personal stories and business-related topics; find the right place for your brand and stick to it.
-Not differentiating between platforms. There are different viewers on Facebook versus Twitter, as well as different demands between the platforms. Be sure not to post the same thing to every social media outlet – instead cater to each individual audience.
Let us know what worked for you in our comments! And stay tuned for more post-show coverage on www.kbbonline.com, as well as in our upcoming February/March 2017 issue.